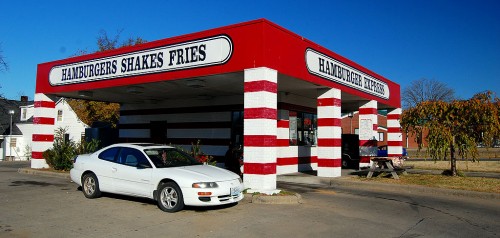 Someone mentioned that the Hamburger Express drive-in at the corner of William and Pacific had barbecue sandwiches that tasted like the legendary Blue Hole Garden's sandwiches that are the standard against which all barbecues are judged by us old locals.
I had driven past the red and white-striped building scores of times but couldn't recall ever stopping in. It was time to give Hamburger Express a shot.
I'm not a food critic
Let's get something clear right up front. This isn't going to be a food review like my food editor friend Jan Norris would write. My knowledge of cooking is limited. If Wife Lila isn't brewing up dinner, my contribution is to reach for the stack of carry-out menus next to the phone. They're located IN the kitchen. That's close enough to cooking for me.
Impression of the Hamburger Express BBQ
I ordered a brown (outside) pork sandwich served on toast, with fries and a Dr. Pepper.
It has twice the meat, at least, of a Wib's sandwich.
The sauce is sweet-tasting, but not objectionably so. I like a little more heat in my sauce, but not much more.
I prefer less sauce on the sandwich. It shouldn't drip.
It's not a Blue Hole BBQ sandwich. Their sauce was lighter, slightly hotter and more vinegary.
I'd do it again. I vote Wib's for taste, but Hamburger Express for value.
Jumbo burger a landmark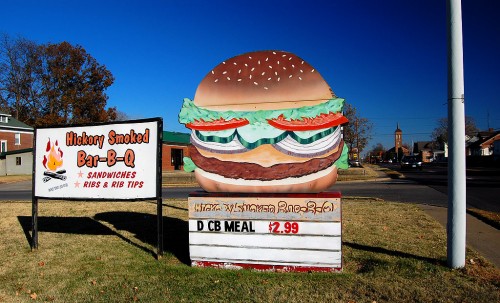 If you can't place the location, you can see St. Mary's Cathedral in the distance off to the east. Knaup Floral is across the street on Pacific. The greenhouses are gone, but the florist is still there.
Ribs and homemade sauce
After having a pork sandwich for lunch, I decided to try the St. Louis Cur Ribs for dinner. There was a lot of meat on the bone, it was tender and it was smokey tasting.
The ribs are served dry, with sauce on the side. I usually prefer it that way. I like to taste the meat, and too many places overdo the sauce. Overall, another good value for the buck. I wasn't crazy about their Cole Slaw, but that's a personal preference.
The only real drawback is that it's take-out only (if you don't count a picnic table outside in front). I like to eat my food while it's hot and the bread isn't soggy.
Manager Brad Jackson said the sauce is their own brew and that the place had been open about 22 years.
I won't wait another 22 years to eat there. After all, Wibs is closed on Sundays and Mondays.