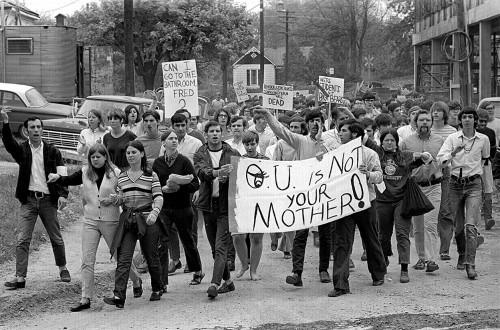 Friend and former Ohio University Post colleague Carol Towarnicky and I are going to do a presentation on the early days of the student rights movement to the OU History Association on October 24. It seems that stuff we covered as news has now become history. Or, as I like to say, "History is news with whiskers."
The deal was brokered by Jessica Cyders, curator of the Athens County Historical Society and Museum. She's heard so much about Southeast Missouri that she's doing a road trip back with me. So, y'all be on your best behavior while she's in town.
TWIRP (The Woman Is Requested to Pay)
It was appropriate (and somewhat amusing) to run across these photos from Central's 1967 TWIRP Dance while working on the OU show. This was the era of Sadie Hawkins Day dances (where the girl asks the boy for a date) and The Woman Is Requested to Pay (TWIRP) affairs.
Notice how the girl is holding open the door for the boy?
For some reason, The Missourian didn't run a photo with school reporter Margaret Randol's story that on the March 11, 1967, Youth Page.
Littleton & Hirsch are Mr. and Miss CHS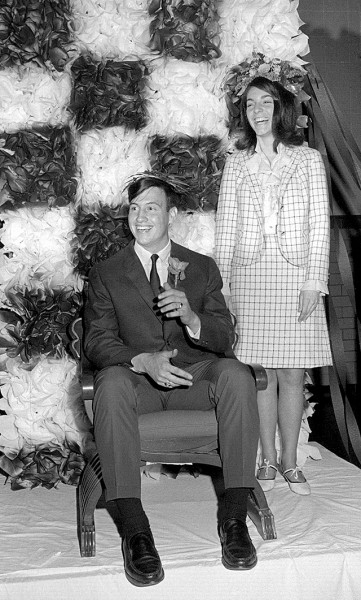 The story said Gary Littleton and Miss Mary Hirsch were crowned Mr. and Miss CHS at the Twirp Dance Friday night in the Central High School gymnasium.
Mary is the daughter of Mr. and Mrs. Ralph Hirsch, 1855 Thilenius, and Gary is the son of Mr. and Mrs. Wesley Littleton, 2540 Marvin.
Candidates
The candidates included Miss Jane Dunklin, daughter of Mr. and Mrs. Maurice Dunklin, 839 Alta Vista; Miss Mary Hale, daughter of Mr. and Mrs. Lemro Hale, 2209 Brookwood; Miss Georganne Penzel, daughter of Mr. and Mrs. George Penzel, 1844 Woodlawn; Charles McGinty, son of Dr. and Mrs. Charles McGinty, 2435 Brookwood; Larry Johnson, son of Dr. and Mrs. Earl Johnson, 1044 Henderson, and Mark Kirkpartrick, son of Mrs. Wilma Kirkpatrick, 903 Bellvue.