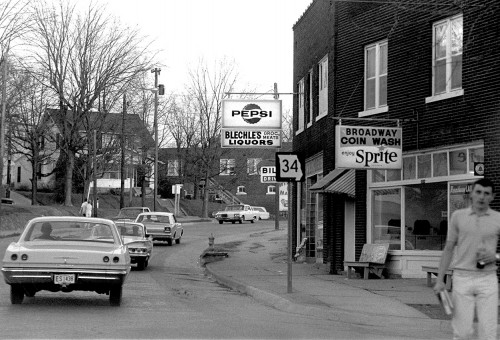 This corner, just east of Park Avenue on Broadway, looks quite a bit different today. Turn to Google's Street View to see a recent photo. On March 11, 1967, the buildings on the right housed Blechle's Grocery (that's the way it's listed in the City Directory. Since it's adjacent to the SEMO campus, the sign emphasized liquors, though).
The the two buildings on the right have been spiffed up. What used to be the Broadway Coin Wash is now a boutique. What used to be the grocery is an empty storefront in the Google photo.
Things that are gone
There are some things in the picture you won't see today
The brick building around the curve used to be Werner's Super Market. The university knocked down the market and most of the houses in the area.
A newspaper rack in front of the grocery.
A sign for a public telephone over the fuzzy guy's head on the right.
The 1968 City Directory said Ruth Froemsdorf lived at 1231A Broadway, which would have put her above the coin wash. Another section, with more detail confirmed that she she was the third grade teacher at Trinity Lutheran School.
Aerial of the area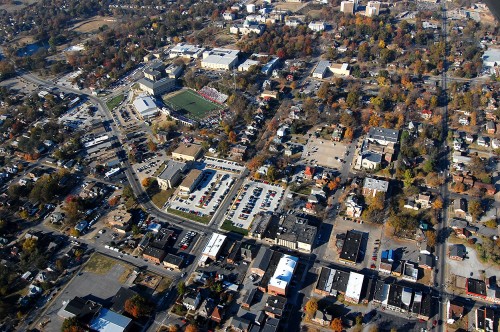 This November 2010 aerial shows Broadway from just west of Park Avenue and Capaha Park on the left to Sprigg Street on the right. You can see what it looked like in 1966 here.
Click on the photos to make them larger.