When I wasn't shooting assignments, I was usually cruising around looking for interesting people, places and situations. I thought this farmstead in southern Ohio interesting enough to pull over for a quick photo.
There was a curious mix of vintage cars, VW bugs and a VW bus in front of the old farmhouse, barn and outbuildings. It wasn't unusual to be greeted by barking dogs, but these guys seemed to be a little more unfriendly than most. The barking dog on the left didn't worry me as much as the guy just peeking over the rise on the right. (You can click on the photos to make them larger.)
I hate little yip-yip dogs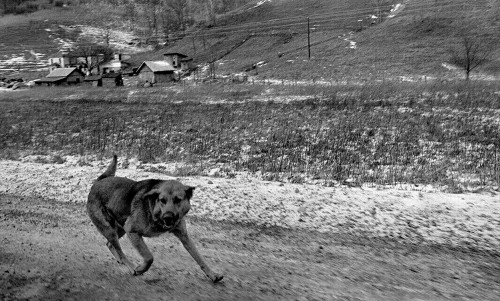 I've managed to make it into Medicare age having been bit only twice in my life: once when I was a paperboy and once by a neighbor's dog down here in Florida. In both cases, the culprit was one of those annoying little yip-yip dogs that are like rats with an attitude – and just about as useful.
This guy, though, didn't look like he would fool around. I decided to leave this a road not taken. I wondered what was down that lane that warranted this much protection. My first thought was moonshine, but the VWs made me lean toward illegal herbs.
Or, it might just be they valued their privacy and didn't want any visits from the Avon Lady.