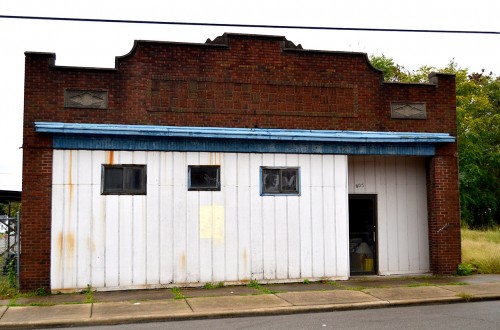 The nondescript building at 605 Good Hope looked familiar, but I couldn't place what had been in there over the years. A quick Internet search showed that for the longest time, it was Ruh's Super Market.
Fred Lynch's Missourian blog has a Frony photo that will show you what it looked like right after it opened in 1936. Fred has a nice summary of the history of the building and its owner, Frank C. Ruh, in his post.
Here is Mr. Ruh's obituary from the February 13, 1959, Missourian. He died at 77, after nearly 52 years in retail business. He and G.H. Gross opened Gross and Ruh Market at the corner of Good Hope and Frederick in 1907. When Mr. Gross died in 1931, he continued operation of the business and moved to 605 Good Hope in 1936.
[Editor's note: the obituary said Gross died in 1931; Fred's account says 1932. It's not uncommon for obits to be different than contemporary reporting. Obits are frequently based on memories, not research.]
1954 Ruh's advertisement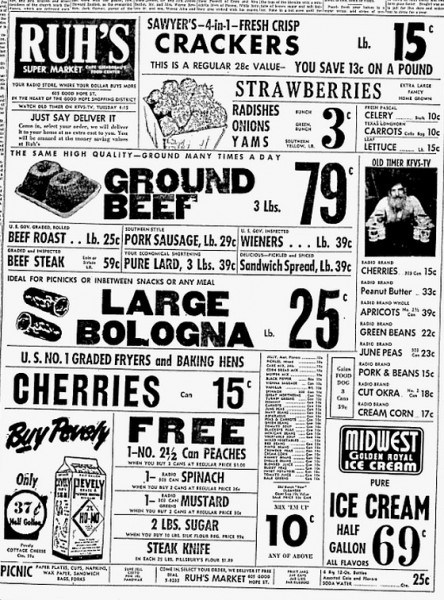 For some reason, we never shopped at Ruh's. I don't know if Mother didn't like the business or if she preferred to shop at Hirsch's Midtown Grocery on Sprigg if we were in Haarig. This ad ran in the May 24, 1954, Missourian.
Thompson's TV and Appliances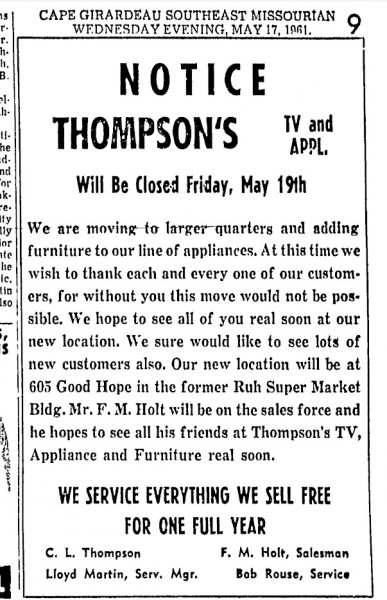 After Ruh's death, Thompson's TV and Appliances moved into 605 Good Hope in 1961. This advertisement ran in the May 17 Missourian.
VIP Industries came in 1967
VIP Industries, a sheltered workshop, moved into the facility in 1967. By 1982, a Missourian story reported, VIP employed almost 300 handicapped residents in a five-county area here, in Marble Hill and in Perryville.
I don't know what is in the building today.