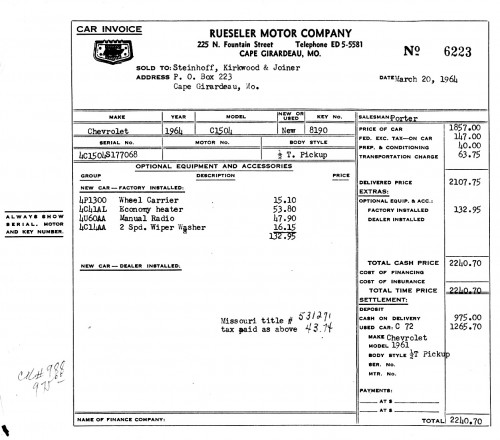 I now know why I'm a pack rat. Mother's attic was a time capsule, and Dad's filing cabinets are a treasure trove of business minutia. I've found things going back to 1946. The one summer I worked for him, he set me to scooping up every nail, screw and bolt on the floor of the various shops, and then had me carefully put each one in its proper bin.
I thought he was just giving me busy work to do between unloading lumber and concrete forms coming back from jobs, but, no, I see that his year end inventories were down to the nut, bolt and screw level. Not by box, but by item.
Jim Kirkwood got an "economy heater"
Dad and his partners would usually trade pickup trucks every three years to get the most trade-in value out of them.
The invoice above shows that Jim Kirkwood got a new 1964 Chevrolet 1/2-ton pickup for a grand total of $2,240.70. (Click on it to make it easier to read.)
Extras included a wheel carrier for $15.10; an economy heater for $53.80; a manual radio for $47.90, and two-speed windshield wipers for $16.15.
1967's model was spiffier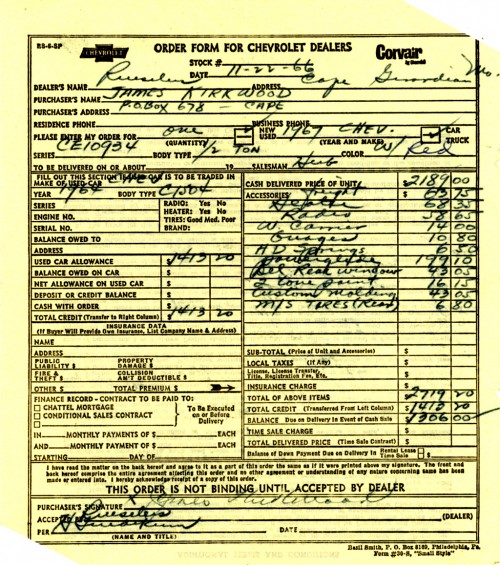 Kirkwood's 1967 truck had a few more extras. Maybe Steinhoff, Kirkwood and Joiner had had a good year. The overall cost was $2,754.20, but his old truck was worth$1,423.20 in trade.
Here were his options:
Heater – $68.35
Radio – $58.65
Wheel carrier – $14.00
Gauges – 10.80
Heavy-duty springs – $6.50
Powerglide – $199.10
Deluxe rear window – $43.05
2-tone paint – $16.15 (White/Red)
Custom molding – $43.05
M/S tires (rear) – 6.80
My oil changing experience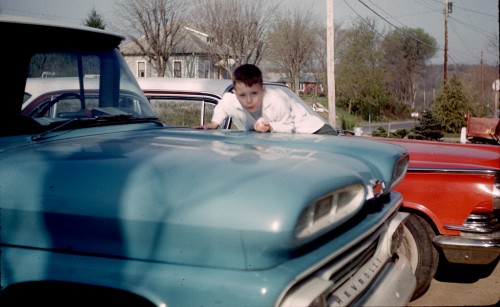 Dad was due for a new truck the summer I worked for him. He'd only had it a few weeks when he pulled it into the shop and told me to change the oil.
Now, I had never changed the oil in anything before, but how hard could it be? You unscrew a plug, let all the goop drain out, you put the plug back and you pour in new goop, right?
That's exactly what I did. I was surprised that it took less oil than I expected, but a check of the dip stick showed the crankcase was full.
(That's Brother Mark crawling over one of Dad's trucks. He was partial to green and white, but I think a blue one slipped in from time to time.)
"Something's wrong with the transmission"
Dad was working a job out in the Missouri Ozarks, so he didn't get back until late the next afternoon.
"There's something wrong with the transmission. It kept popping out of gear all the time. I hope I didn't get a lemon," he said over dinner.
The next day he discovered that there was zip, zero, zilch transmission fluid in the vehicle.
I got the drain plug part right, I just didn't know that belly of the beast had TWO drain plugs – one for oil and the other for transmission fluid.
I give Dad credit. He didn't chew me out. The truck and I both survived the experience.