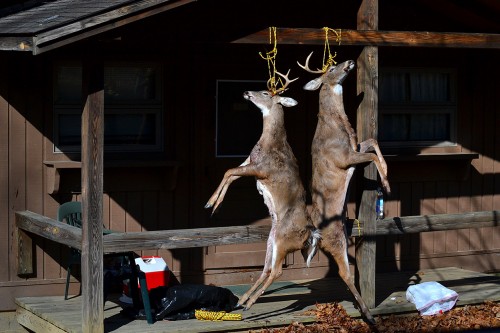 I knew it was deer hunting season in Ohio when I stayed at the Burr Oak Lodge last November. Still, it's a bit unusual to see Bambi times two hanging from a beam on the way to your room.
Just like in 1968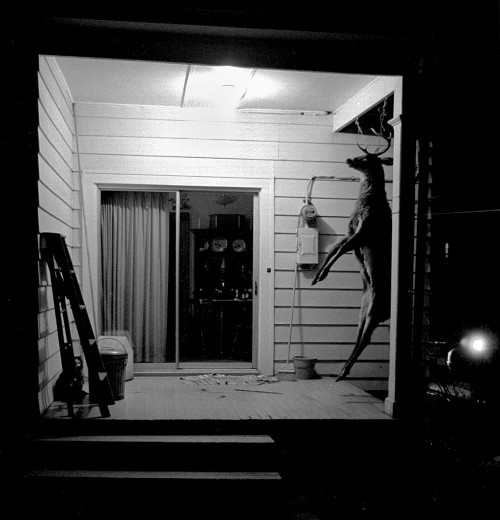 Maybe I shouldn't have been too surprised. People in Ohio like their deer meat, I discovered, when I cruised Nelsonville late at night on December 5, 1968. This deer was hanging on a porch not too far from the main drag.
Hauling venison across state lines
Wife Lila told me to go by her Brother John's house in Jackson to pick up some venison to carry back to Florida. She had it all figured out: He said it'll be frozen and should make it to Ohio where you can put it in a fridge in your room. When you saddle up to head home, pack it in dry ice, she ordered.
All of that went according to plan until I started to leave Athens. There was no problem getting the dry ice at a Kroger store (minimum quantity was way more than I needed), but the cooler was too tightly packed with deer meat to get any dry ice in it. Either I was going to have to buy a bigger cooler or something was going to have to give.
"Boy, what are you doing?"
An old man in a car next to me watched my maneuverings until he couldn't stand it any more, "Boy, just what are you doing?"
Showing uncharacteristic good sense, I didn't say something like "Dropping my wife off along the road. This is the last of her."
I explained that I was trying to stuff 10 pounds in a five-pound sack.
"I love venison," he said, wistfully, "and I can't think of the last time I had some."
"Today is your lucky day, then," I said as I handed him a wrapped package of Missouri deer meat. "I'd rather give it to you than throw it away to make room for the dry ice."