As you may have figured out by now, I'm a sucker for cemeteries. Fortunately, my Road Warriorettes share my affinity for them. I can't count the number of U-turns we've made to explore some narrow graveled rut of a road that would scare a billy goat.
The Oak Grove Cemetery in Logan, Ohio, has some interesting features going back to the 1800s, but this modern marker for Charles "Toad" Moss was what caught my eye.
Even if it didn't contain an amazingly lifelike sculpture of a dog, the hanging wind chimes and a white orb that must represent the sun or the moon would make you want to get closer. (Click on the photo to make it larger.)
Moss Obituary in Logan Daily News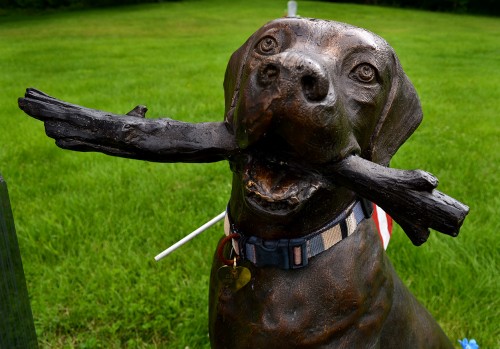 LOGAN — Charles "Toad" Almon Moss, 73, of Logan, passed away Friday, Dec. 27, 2013 at his residence.
Born Nov. 14, 1940 in New Vienna, Ohio, he was the son of Frances Lucille (Mowery) Moss of Circleville and the late Charles Elmer Moss.
Toad previously farmed in Pickaway County and had retired after 46 years of service as a plant engineer from PPG Industries in Circleville. Charles attended the Immanuel United Methodist Church and had formerly attended the Trinity Lutheran Church, both of Logan. He was a former member of the Minor Chords Barbershop Chorus and the Columbus All Breed Dog Training Club.
He is survived by his loving wife, Suzanne (Shoenfelt) Moss; two sons, Charles Douglas (Vicki) Moss of Westerville and Michael Sheldon (Lori) Moss of Canton, Ohio; two daughters, Heidi Michelle Moss of Blacklick and Mariah Bree Moss of Logan; four grandchildren, Zack, Josh, Lee and Mackenzie Moss; two sisters, Judy (Jim) McCord of Dublin and Nina (Chuck) Southall of Chillicothe. He also is survived by his faithful dogs, Sage, Rosie, Honey Bear and Major.
The dog statue is wearing a real collar with a tag that says, "Sage 2002 – 2014." I guess that means owner and faithful dog are reunited.