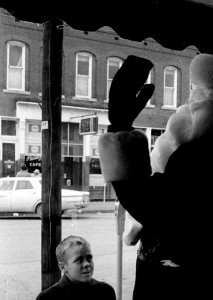 I've been poking around trying to figure out where the Santa picture was taken that I posted here. I've looked at Google Maps, Topofusion Maps and every current photo I took last month. My head hurts.
Brother Mark suggested it might have been taken from Shivelbine's Music on Broadway, but I pretty much dismissed that. (And not just because he's my brother.)
Here's a second frame taken from a slightly different angle that shows that the business across the street is, indeed, a bar and / or cafe.  Note the six windows that are visible on the second floor. (Click on the image to make it larger.)
Southeast Missourian photographer Fred Lynch came up with another theory.
Fred's message and photos
It looks like the Santa in the window photo was taken in the 600 block of Good Hope in the Haarig District.
I shot these photos today.
Photo #1, the building in the background

In photo #1, notice the three-story building on the left. It appears that is in the background of your Santa photo. At the far right in the Santa photo, notice the two-story building.
Photo #2, the building from which the photo was taken
The Santa photo has a utility pole in it. In photo #2, notice the utility pole in front of the building.
The buildings have changed much over the years.
I am not sure which building was Unnerstall's since it has changed.
It could be, it might not be
Like Fred says, the street has changed so much that it's hard to tell what was there 40 years ago. The best reference I have is a 1979 Cape Girardeau City Directory that lists what business were in the 600 block of Good Hope. Even in 1979 it was depressing to see how many addresses were marked "Vacant."
North side of 600 Block of Good Hope
Here is what the directory shows for the addresses in Photo #2 in 1979, from right to left:
620 Good Hope (Meyer Supply Company) was Suedekum Hardware
624 Good Hope – vacant
624A Good Hope – vacant
626 Good hope – vacant
630 Good Hope – Unnerstall's Drug Store. I think that'll be the light-colored building with the white awning.
632 Good Hope – Mary Dee Cafe
632 Good Hope – vacant
635 Good Hope – on corner of Sprigg (not shown) – Jo Donna Day Dance School (was Shade's Clothing Store in the 60s)
If Fred is correct, the original picture was probably taken in one of the small shops between Meyer Supply Company and Unnerstall's.
Does anyone else want to take a stab at it?
Haarig was once a vibrant community
Suedekum's wasn't just a hardware store. They set up some great toy train displays at Christmas time. I'll never forget the year Dad brought home of of their displays. I still have the trains.
There was a bakery right around the corner east of the hardware store that had smells to die for. We would shop for clothes in Schade's Clothing Store and get prescriptions filled at Unnerstall's or Cape Cut Rate. One of my barbers was within a block on Sprigg and there was a grocery store nearby.
Farmer's and Merchants Bank was on the other side of Sprigg and Dad had an office for his construction company upstairs for awhile. I can still remember walking into the bank with a handful small change to deposit in my savings account. (Later I was disappointed to find that my money got mixed in with everyone else's money and I wouldn't get the exact coins back.)
[Editor's note: Fred's photo blog in The Missourian is one of the most widely-read features in the paper. If you like my photos, you'll appreciate the ones he comes up with.]