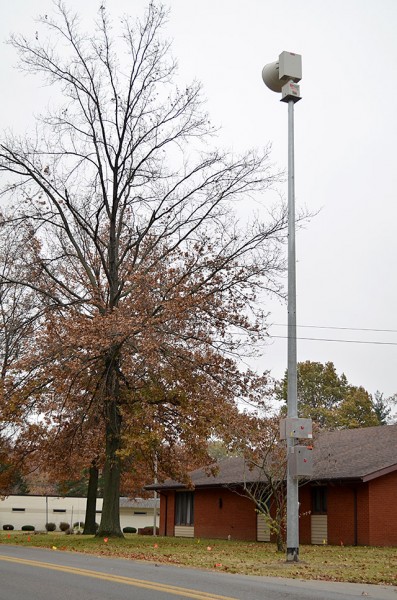 We saw a bunch of heavy equipment parked around the fire station up the street, plus a big pole on the ground. When I got back from Perry County the other day after dark, Mother said there was some new kind of gizmo sticking up in the air.
It turned out to be one of the new emergency sirens the city was installing to augment the four it already had. When we went under a tornado warning the other night, we could barely hear a siren off in the distance.
Of course, that might be because Mother is Storm Central. She had the TV blaring, a scanner in the living room talking away and she was holding a portable scanner. From time to time, the weather alert radio in the hallway would add to cacophony.
Ain't no storm going to sneak up on her.
Bad weather has been in the news
For about a week, the weather folks have been hyperventilating about a cold front predicted to move through here this weekend. Much to their dismay, it looks like it's just going to be – as they are fond of saying – just a "wind event."
… Wind Advisory in effect from 8 am to 8 PM CST Sunday…
 The National Weather Service in Paducah has issued a Wind Advisory… which is in effect from 8 am to 8 PM CST Sunday.
 * Winds will increase and become strong and gusty Sunday ahead of an approaching storm front.
 * Timing: south winds will really pick up during the daytime hours Sunday as a weather front approaches. The strongest winds with the highest gusts will be ongoing through the midday and into the afternoon hours.
 * Winds: south winds will average 20 to 30 mph with gusts to 40 to 50 mph at times. These will be the regular gradient winds occurring without the aid of a thunderstorm.
It's probably good this isn't going to be a big deal storm, because the new siren hasn't been hooked up yet.
This is not a good thing
"This is not a good thing," I warned her. "I can write the story right now: 'A house at the corner of Kurre Lane and Kingsway Drive, just a hundred yards from an inoperative emergency siren, was struck by a tornado that picked the structure up and carried it to parts unknown. Observers reported hearing what they thought sounded like a police scanner getting fainter and fainter as the house was sucked up into the clouds. City work crews will have the siren hooked up Monday evening.'"
Kinda makes me think of Guy Clark singing Tornado Time in Texas:
well, the sky was blacker than a funeral suit
hotter than a depot stove;
hide in the cellar
here comes amarillo
blowin down the road
ya got yer hail stones big as hen eggs, boy,
yer clouds as green as can be
old mother nature's raisin hell
she parked a pickup in a tree.
tornado time in texas
take the paint right off of your barn
tornado time in texas
blow the tattoo right off of your arm