On the same day I shot the photo at Ft. Defiance in 1968, I noticed the steamboat Delta Queen headed upstream toward Cairo. Who could pass THAT up? I gave chase and caught up to it at the Cairo riverfront.
Delta Queen built in 1926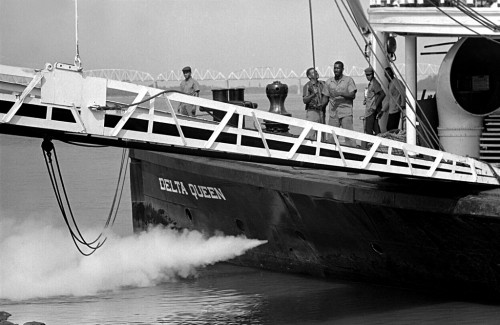 The hull, first two decks and steam engines were ordered from Scotland in 1924 and assembled in Stockton, Cal., two years later.
Starting running Midwestern Rivers in 1948
After a highway linking San Francisco and Sacramento killed off the steamboat excursion business in California, the Delta Queen was towed through the Panama Canal, refurbished in Pittsburgh and placed into regular passenger service, plying the waters of the Ohio, Mississippi and Cumberland Rivers in 1948.
Winner of the Golden Antlers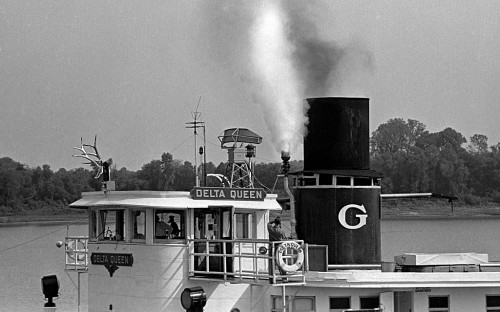 The Queen recreated historic steamboat races each year during the Kentucky Derby, when it raced with the Belle of Louisville on the Ohio River. The winner received a trophy of golden antlers, which you can see mounted on the pilot house.
Delta Queen became floating hotel in 2009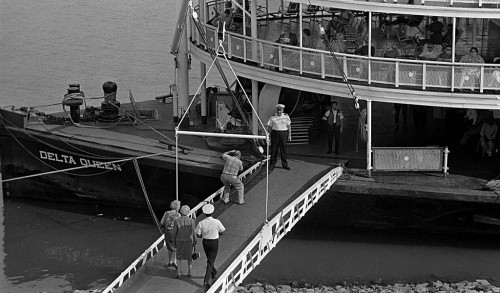 The Delta Queen ended all operations in 2008 and was turned into a floating boutique hotel in Chattanooga, Tenn., in 2009. Here's a link to the Delta Queen Hotel website.
Photo Gallery of Delta Queen's Cairo visit
Click on any picture to make it larger, then click on the left or right side to move through the gallery.