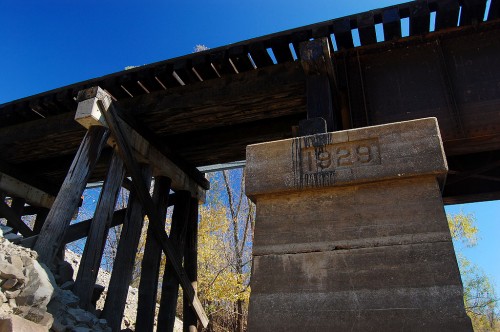 Wife Lila's niece, Laurie Everett, wanted to go a photo expedition. The first couple of locations didn't pan out, so we headed to South Cape (as The Missourian used to refer to it euphemistically) to see if anything was still left from the 60s.
We drove down a gravel road until it became a couple ruts that ended at Cape LaCroix Creek, just upstream from where it dumps into the Mississippi River. On our left was a railroad trestle dated 1929.
Cape LaCroix Creek looking downstream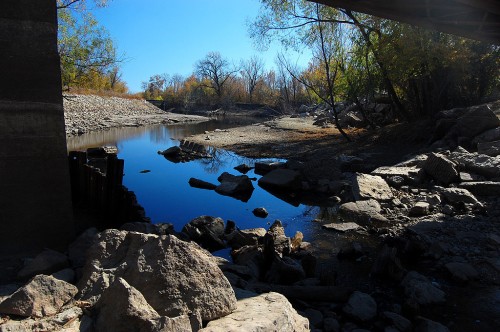 If we were standing on the other bank or on the bridge, we could probably see the river around that last bend. There is another bridge downstream that I didn't notice until I looked closely at the aerial photo at the bottom of the page.
View upstream toward Sprigg St.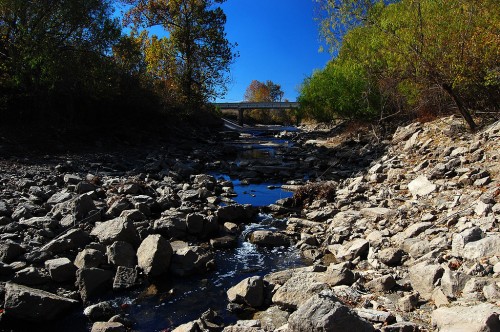 The view upstream looking at Sprigg St. is a much more attractive creek than it was in the days when it carried offal and other unspeakable things from packing plants located on its banks.
Long ago, that bridge on Sprigg would have been a toll bridge leading to Tollgate Hill that I wrote about earlier.
Aerial view of Cape LaCroix Creek and Mississippi River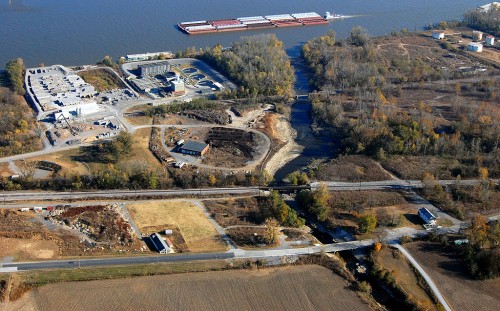 Here is a photo of the area taken last weekend. Sprigg St. is at the bottom of the picture. The 1929 railroad bridge is above Sprigg. The third bridge is another railroad bridge. The Blue Hole Garden would have been where the green trailer is at the bottom right of the aerial photo.