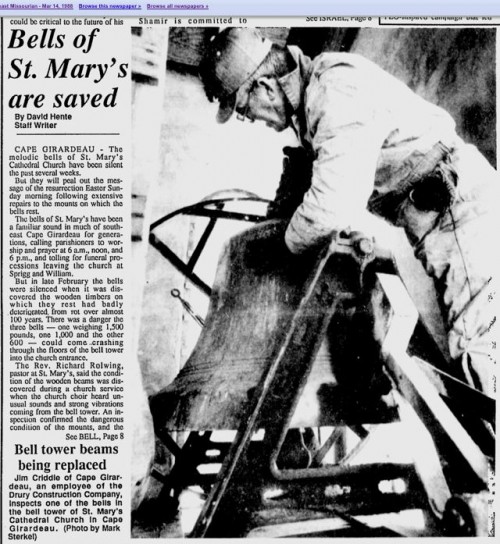 After running the other church bell stories, Shy Reader sent me these two clips from The Missourian. I would provide a link to them, but they don't show up when I search for them.
Click on the images to make them larger.
Missourian jump page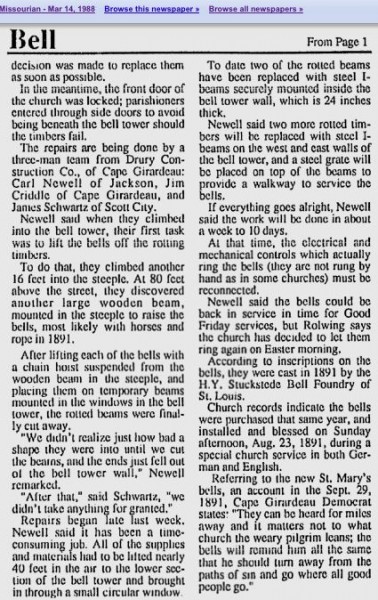 Here's the rest of the story.
What was that strike thing all about?
I'm sure some of you were wondering what that strike thing was all about yesterday. Thousands of websites, some as large as Wikipedia, others as small as my two blogs, went dark for 24 hours to protest two bills that are making their way through Congress. They are ostensibly to stop Internet piracy, but have the potential of crippling the Internet as we know it today.
I've experienced the chilling effect of what's already on the books. I posted a video of a night lightning with a public domain audio of Beethoven's Fifth playing in the background.
YouTube sent me a notice that they had removed the audio because of copyright concerns. It took 24 hours to get it back up after I provided evidence that the performance was in the public domain. Guilty until proven innocent.
Under the new laws, my whole site could have been taken down and I could have been subject to fines and jail had I been found to have been using copyrighted material. I have a video on my bike blog where I'm passing a slower rider. You can hear my MP3 player in the background. Conceivably, that could be a violation of the law.
If you don't think they'll fool with "the little guy," consider this: we didn't invade Russia nor China; we went after Granada.