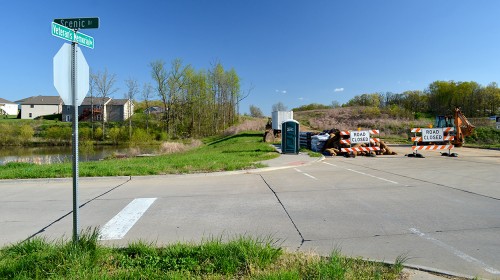 There has been a lot of clearing going on alongside the east side of I-55 south of Hwy 61. It's an expansion of Veteran's Memorial Drive from the intersection of Scenic Drive to Hopper Road. The plan is for it to eventually go from Hwy 61 to Route K.
This stage will take it from Scenic Drive to Hopper Road, which will be closed for several months, beginning May 9.
The smell of spring
I'll never forget the sights, smells and sounds when Dad was starting a new job in the spring. There was the throaty roar of a bulldozer coming to life, belching black diesel smoke out of its stacks. Then, the "cat skinner" would drop the blade, goose the throttle, and you'd hear the clankity-clankity-clank of the tracks pushing up little squares of dirt that looked like Mother's brownies. That mingling of grease, diesel fuel, exhaust and freshly-turned earth are spring to me.
Click on any photo to make it larger, then use your arrow keys to move through the images.