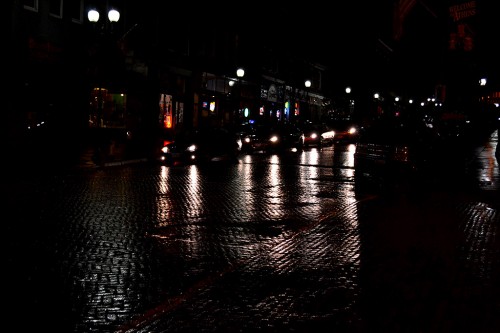 I was back in Athens, Ohio, on February 26, walking on rain-slicked cobblestones and helping set up my exhibit of photos of the Martin Luther King Jr. National Day of Mourning taken in 1968.
"Dawn of Mourning" is presented by Sigma Gamma Rho, Inc. in conjunction with the College of Arts and Sciences, the Athens Historical Society and Museum, the Foster and Helen Cornwell Lecture Series, University College, the Campus Involvement Center, The Athens Messenger and The Post.
Here is a radio interview the local NPR station, WOUB, did with me. (To be honest, I could only listen to about five minutes of it. I always cringe when I hear myself being interviewed.
Danielle Echols, who has been the Sigma Gamma Rho coordinator on the project, did a great job of keeping me more or less between the lines during the radio program. I could tell she had a basket of questions to ask if I was one of those laconic "Yes, Ma'am," "No, Ma'am" subjects, but she need not have worried. Rambling is one of my better things.
Photo gallery of show catalog photos.
Here is a catalog of the key images showing a highly emotional day at Ohio University. Click on any photo to make it larger, then click on the left or right side of the image to move through the gallery.