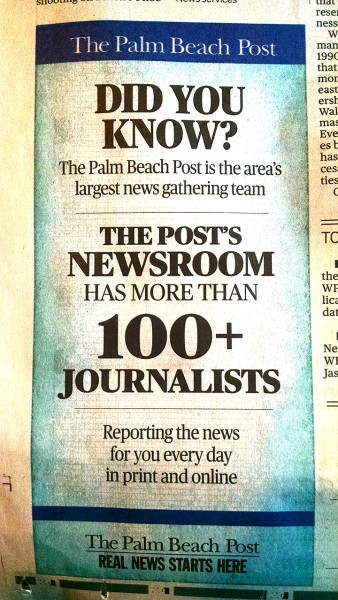 Flipping over to Page 2A in my old newspaper, The Palm Beach Post, while munching on a bagel loaded with cream cheese I almost knocked over my cup of coffee, when this house ad jumped out at me. The paper was bragging that it "has more than 100+ journalists reporting the news for you every day in print and online."
Reminds me of the Good Ole Days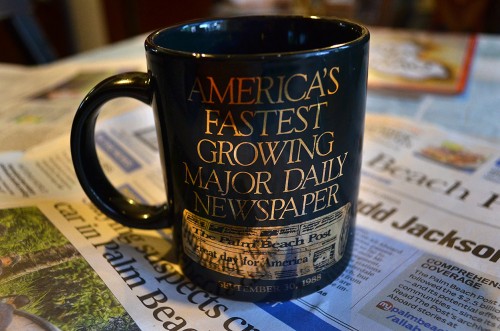 Back almost exactly 27 years ago, on September 30, 1988, we were handing out mugs that crowed that we were "America's Fastest Growing Major Daily Newspaper." Now, to be honest, I think there should have been some asterisks surrounding that claim, but it was mostly true. We were growing staff, circulation and revenue like there was no tomorrow.
The treasurer said, "We could park a wheelbarrow out in front of the building and people would throw money in it." (In fairness, in 2008, he added, "One day we went out and the wheelbarrow was empty. The next day when we checked, the wheelbarrow was gone.")
WE had bragging rights
The 2015 Post is proud that it has 100+ journalists.
Here's the editorial makeup of the paper on August 28, 2007, a year before the first 300-person purge took place and before our production and circulation departments were outsourced. Palm Beach Newspapers, Inc., had 1,414 employees in all departments at that time.
The newsroom had 317 employees in 16 departments. Here's the breakdown:
401 News Admin – 12
402 Metro – 62
403 News Desk – 28
404 Sports – 42
405 Features – 33
406 Business – 16
407 Community News – 22
408 Wash Buro – 1
409 Library – 11
410 Graphics – 10
412 Opinion – 12
414 Media – 1
415 Arts & Entertainment – 10
416 State – 19
417 Web – 13
419 Photo – 25
We might have had some fat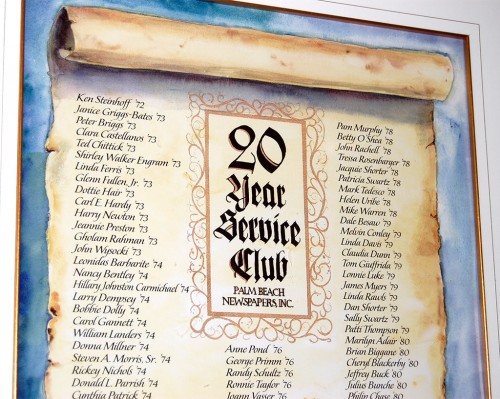 We might have had some fat in 2007, but I can't believe that you can cut two-thirds of your news-Hoovering folks with centuries of institutional knowledge, then brag about your "more than 100+ journalists" in an advertisement. (When I posted this to Facebook, someone pointed out that "more than 100+" is redundant. Maybe that's what happens when you get rid of copy editors.)
Click on the photo to read my name as part of the Class of 1972.