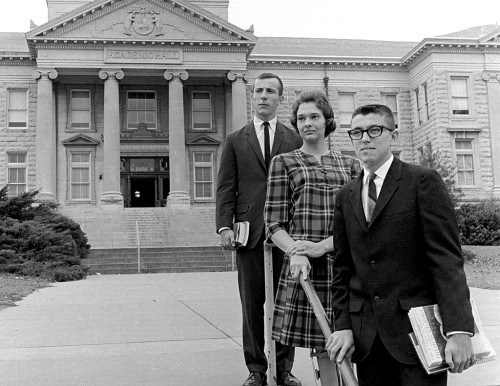 These shots of the Class of 1966's Outstanding Seniors – or slight variations of them – ran in the 1966 Girardot. Unlike most years, these were taken off the high school campus.
Andy Pemberton, Janet Zickfield and Richard Baker were photographed in front of Academic Hall. Click on the pictures to make them larger.
Bishop, Crass and Wright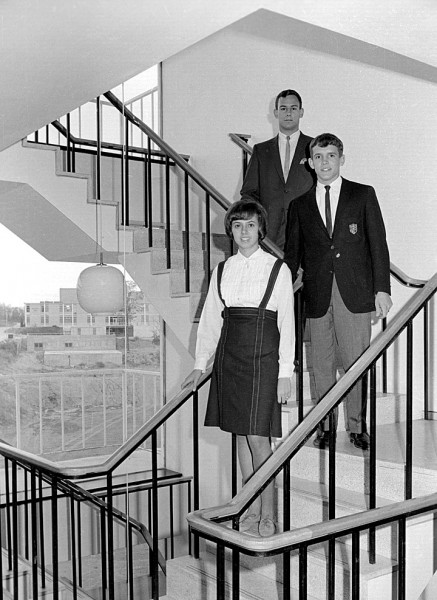 From top to bottom, Bill Bishop, Terry Crass and Sally Wright pose in another SEMO building, but I don't recall which one. I'm sure someone will be able to identify it from the view out the window.
Doughty and East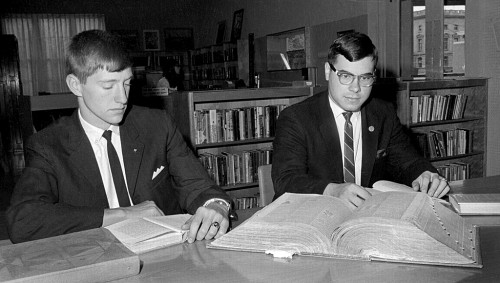 We've talked about Russell Doughty and Bill East's Girardot photo that had to be cropped tightly to eliminate an inappropriate word. This was an alternative shot. I can't tell if they are studious or merely sleepy. I notice that both students are sporting their senior rings. This isn't Central's library. Was it the public library or Kent Library?
Where did Pat go?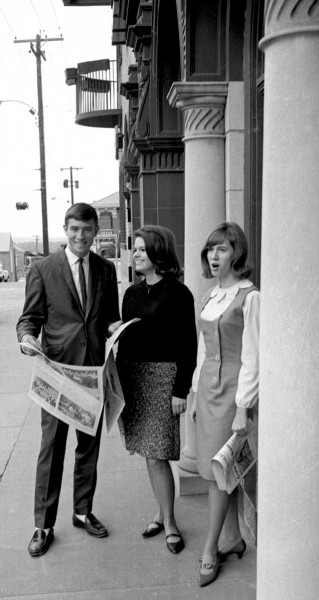 I rembered the photo in the yearbook as having two people in it – John Hoffman and Linda Stone. When I looked at the negative, though, there was a third person in the frame – Pat Samuel. Yes, she WAS cropped out of the Girardot photo.
This was going to be embarrassing. Was Pat drummed out of the Outstanding Club just before the book went to press? It was with some degree of relief that I saw Pat safely tucked into a photo with Joni Tickel, Debby Young and Sharon Trotter. (I haven't found the original of that one yet.) The photo that ran was significantly more flattering than this one.
A picture of Kitty Garrett and Mike Young, the other Outstanding Seniors, will show up one of these days.