I was rooting through a bunch of car wreck pictures to see if any of them had interesting backgrounds. This was shot on South Kingshighway just north of the I-55 intersection. Across the street from the wreck is Johns Metal Iron and Salvage, but we always called it Johns Junk Yard. It doesn't look like the crash was too bad.
The 1969 City directory lists it as "Johns Auto Parts (Cleo E. Johns) Junk US Hwy 61.
That's my 1959 Buick LaSabre station wagon parked in the median. I'm sticking pretty far out into the road. Maybe I hadn't learned yet the best and safest way to park at a spot news scene. It might have been that I was southbound in the left lane, noticed the wreck after I was right on it or past it, and then tucked in as quickly as I could.
John's ad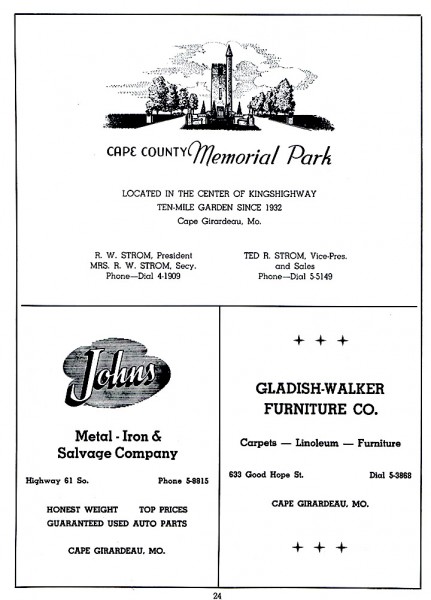 Johns took a quarter-page ad in the 1956 Sesquicentennial book.
A May 15, 2004, Missourian story headlined "A look back at local business – 1997" reported "After 70 years in business, Johns Metal-Iron and Salvage Co., 1110 S. Kingshighway, closed its doors."
What I can't figure out from the headline is did the business close in 2004, when the story was written, or in 1997? There was a lot of business activity reported in the area.