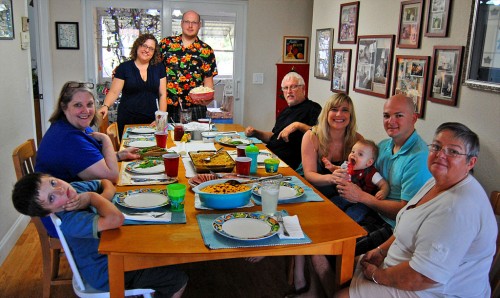 It was good to be back in Florida in time to celebrate Christmas with my Florida family. We're not big on ceremony.
Some of us gathered at Son Matt's Christmas Eve for takeout Chinese Food, which is becoming a tradition.
Strict cooking instructions
Christmas dinner was equally unstructured. Everybody brought a different dish to share so that no one person got stuck slaving away in the kitchen. Even I got drafted. Wife Lila left me strict instructions: "I may not be back from church by 11 o'clock, so take the ham out of the oven at 11 sharp." When the alarm went off, I went racing into the kitchen. Even with potholders, that sucker was HOT! I managed to extract it from the oven with minimal damage to ham and me. I don't think anyone noticed where it bounced off the floor. It's a good thing the cats don't shed much; there was minimal cat hair to pick off.
The photo includes Matt and Sarah (standing), Mary Jo and Devon (Sarah's parents), Carly, Graham and Adam, and Lila. Malcolm's on the left making it plain that he wants dinner over with so he can go back to his loot. You can click on any photo to make it larger.
"You have to be eight to work on this"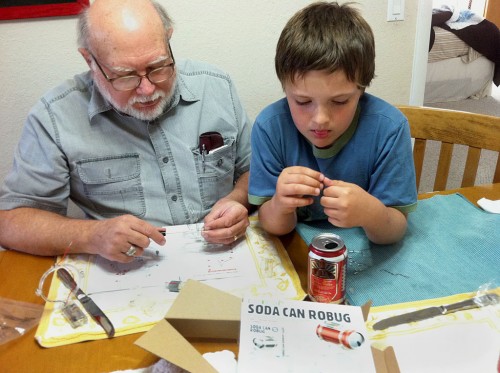 Grandson Malcolm wasn't hearing it when I looked at the cover of the Soda Can Robug and said, "We can't work on this. It says it's suitable for ages 8 and older. You're just seven."
"GRANDAD," he said in an exasperated tone, "I've put together stuff that's for ages 14 and up. My parents don't care."
I hope she likes my Nikon D40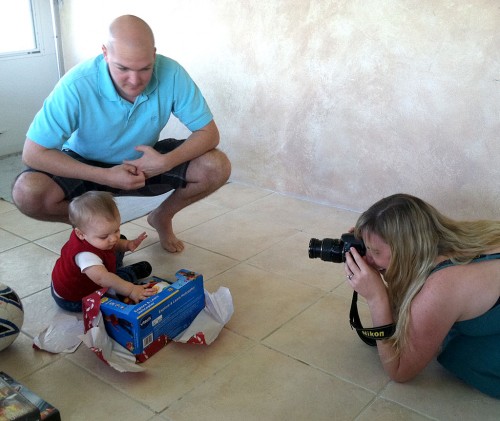 Son Adam bid on a Nikon D3100 on eBay last week. I'm trying to convince them that they should take my Nikon D40 and let me pay the difference to take it off their hands. I'm happy with the D40 (I've taken about 30,000 pictures with it since 2008), but it would be nice to upgrade. Carly's shooting 10-month-old Grandson Graham with the D40 to see how she likes it.
Lego Assembly technician for hire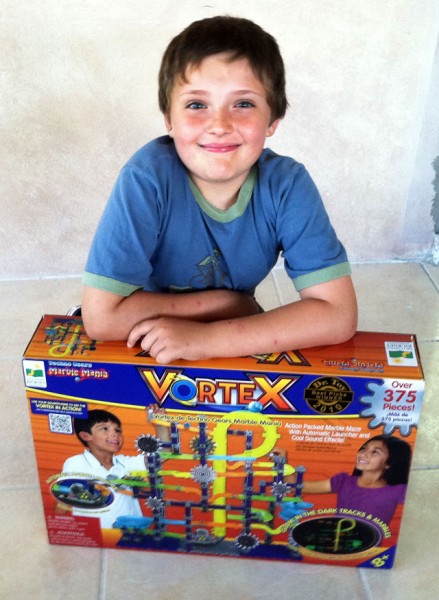 I knew better than to point out to Malcolm that this box says 8+. He's always had a great eye for detail. When he wasn't much more than a year old, we gave him a bunch of paper cups to play with on the floor. When we looked over, he had carefully arranged them by size and was putting the smaller ones into the bigger ones. He made the transition from Thomas the Train and track layouts to Legos and major construction projects this year.
When one of Sarah's friends posted on Facebook, "Does anyone else feel like they work on a Lego assembly line?" Sarah offered, "Malcolm says he charges $1 an hour to assemble Legos, unless it's something cool. Then he does it for free."
My old Cub Scout neckerchief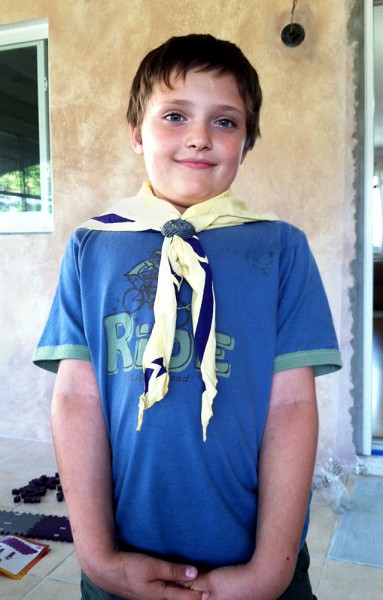 Mother sent Malcolm a special gift. He's modeling a Cub Scout neckerchief and slide that Brothers Mark and David and I wore when we were Cub Scouts with Pack 8, shortly after the earth's crust cooled. She asked him to "take care of it and pass it down to Graham" when he's done with it.
Credit where credit's due
I took the group shot at the top of the page, but Wife Lila took all the rest of the photos with her trusty iPhone.