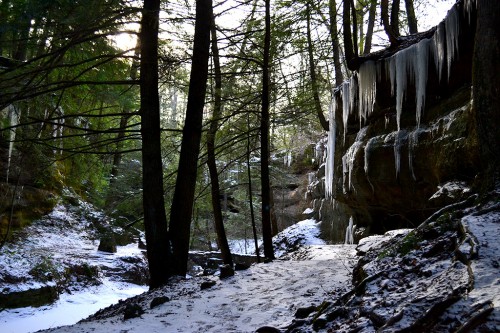 I don't care how much you like your job, there are days when you get hit with the "I gotta get outta town blues." The great thing about being a newspaper photographer was that you had a ready-made excuse to cruise. When I got that "gotta get out of Athens" feeling, I'd either call Ruthie, our Logan bureau reporter, and say "Need anything shot in Hocking County?" or I'd tell Messenger Photographers Chuck or Bob, "I'm headed up to Logan today." Nobody much cared where you went so long as you brought back a picture for the next day's paper.
Hocking County was the home of Old Man's Cave, one of the most peaceful places I've ever been. Even if other people were around, the gorge twisted and turned so much that it gave you the feeling of being alone. It was a place of beauty in any season, but it became magical when the dripping water and waterfalls turned to ice in the winter.
Lila had a winner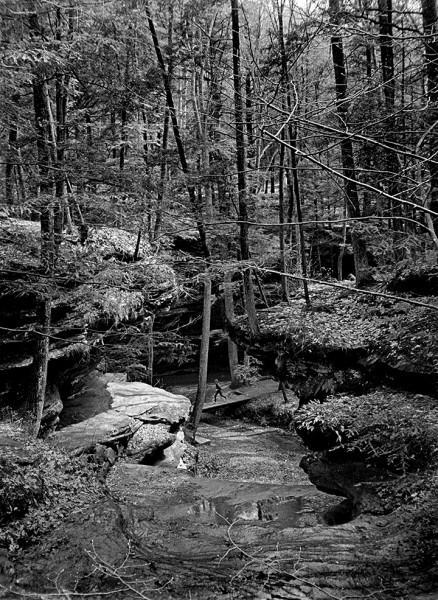 There was some kind of photojournalism conference in Ohio where spouses could enter a photo contest. Wife Lila selected this one shot at Old Man's Cave on April 20, 1970. I've always liked the image of a child running across the bridge at the bottom of the gorge. Unfortunately, we arrived too late to get the photo entered. You don't need some judge to give it a ribbon, it's a winner in my book. I'd be happy to have MY name under it.
A younger Ken at Devil's Bathtub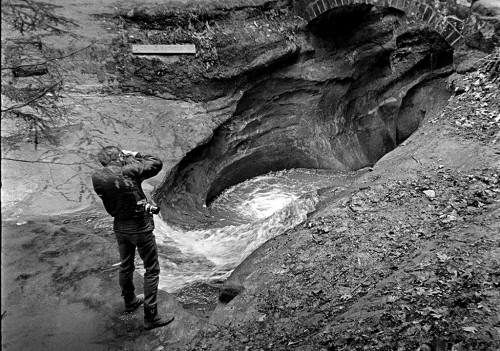 She also caught a much younger me photographing the Devil's Bathtub.
The Bathtub looks the same
The Devil's Bathtub looks much the same in 2013. I, alas, do not.
Fun to share with friends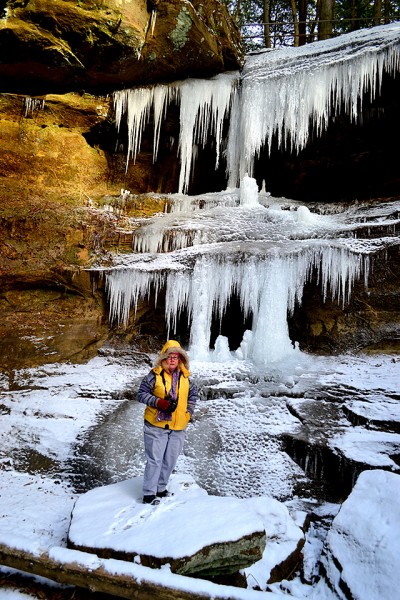 No telling how many people I hauled up to the area during my stay in Athens. Even though it took us quite a few miles off our path from Ohio to Cape, I couldn't resist giving Friend Jan a look at the place.
Coincidences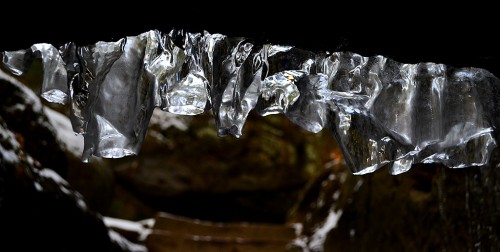 I had another case of those get outta town blues in the early 1970s in Florida. I took off with no destination in mind. Lila either couldn't come with me or she saw the crazy look in my eyes and decided this might be a trip better taken solo. I picked roads at random until I finally ended up on Cedar Key, a tiny spit of land sticking out into the Gulf of Mexico more than half-way up the state.
Walking down the main (probably only) drag, I thought I spotted a familiar face. It turned out to be former Central High School debate partner John Mueller. He had the same desire to escape from his job reporting for the Associated Press in Tallahassee as I had to get away from The Palm Beach Post for a weekend.
There is no telling where Cape Girardeans will turn up.
Grandma Gatewood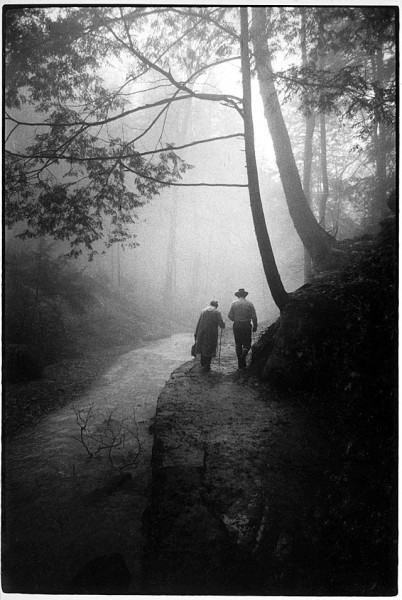 This is also the place I shot Grandma Gatewood when part of the trail was dedicated to her.
Photo gallery of Old Man's Cave
Black and white photos were taken in the late 1960s and early 1970s. The color shots were from our recent visit January 24, 2013. Click on any photo to make it larger, then click on the left or right side of the image to move through the gallery.