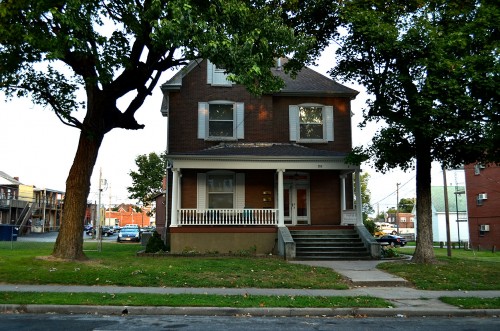 I didn't find any stories that told when the house at 118 North Ellis Street was built, but there were plenty of stories and briefs about the people who have lived there over the years. From the pages of The Southeast Missourian:
April 30, 1924 – For Rent – 5 rooms, modern, 118 North Ellis.
[In the same paper was an ad that read "To the Colored People: The Marquette Cement Plant Boarding House under new management. Colored employees seeking a refined boarding house will find this a good home, as there will positively be no lawlessness tolerated. Just as the plant has been improved, so has this boarding house. Board, room, short orders, sandwiches, soft drinks and ice cream served. Don (Blue) Hubbard Manager]
August 4, 1925 – Mrs. Pattie Sexton of Malden motored to Cape Girardeau Sunday to spend a few days here as the guest of Mr. and Mrs. Alfred Emory.
June 8, 1933 – Seven Negro children, whose plight was reported last week when they were living in a darkened room at the Kimmel barn on North Spanish street north of Broadway, are now housed with their parents in more comfortable quarters. They are living in a small house owned by Mrs. Minnie Meystedt, 118 North Ellis street, in the rear on the 500 block on North Sprigg street. They have been permitted to live there until something permanent can be done about their situation. The family was driven from the barn last Friday when Allan Kimmel, owner of the barn, tore away the doors and windows to the room.
July 15, 1935 – Mrs. Howard Templeton, a surgical patient, was discharged from Southeast Missouri Hospital.
June 9, 1936 – Mrs. Jewell Miller and Harvey Meystedt were re-married by Rev. Wm. H. Hackman at the Grace Methodist parsonage, 17 South Sprigg street, in a single ring ceremony Saturday night. Mrs. Meystedt is a daughter of Mrs. Mary Davidson of Fornfelt. He is the son of Mrs. Minnie Meystedt, 118 North Ellis street, and his occupation is that of plumber.
June 26, 1948 – In the presence of relatives, Miss Betty La Don Davis, daughter of Mr. and Mrs. Burette O. Davis, 626 South Benton street, became the bride of Bill F. Jackson, 118 North Ellis street, this morning. He is employed at the Marquette Cement plant, and she by the F.W. Woolworth Co.
October 1, 1949 – A building permit was issued to W.H. Meystedt for a 3-car concrete garage, asphalt shingle roof. Cost was $700 and the size was 18 by 20 feet.
January 10, 1950 – Mr. and Mrs. Robert L. Cook, who with their son, Bobby, will move this week to West Frankfort, Ill. Mr. Cook is territorial manager in southern Illinois for the B.F. Goodrich Tire Co. Bobby has been attending St. Mary's School where he is in the seventh grade.
May 17, 1969 – Delmar W. Karger, son of Mrs. Ernest Karger, has been named a Ford Foundation professor of management at Rensselaer Polytechnic Institute at Troy, N.Y.
The Ray Tibbles Family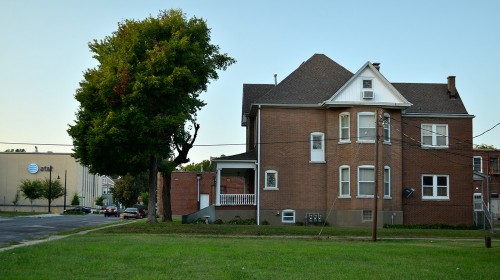 The Ray Tibbles family garnered lots of ink in The Missourian.
March 3, 1953 – Mrs. Wayne Tibbles and daughter were dismissed Monday from St. Francis Hospital. The child was born February 25.
October 19, 1953 – Gail Patricia Tibbles celebrated her fifth birthday with her a party at her home Saturday afternoon. Guests included Diane Hunze, Sandy and Johnny Headricks, Amanda Ashby, Martha and Timmy Blattner, Judy Schlimme, Chuckie Dockins, Diane Meystedt, Jo Etta Lewis and Judy Hengst.
May 20, 1954 – Ray Tibbles went to Salem, O. for a training session at the Deming pump manufacturer. He is a salesman for the N.O. Nelson Co.
July 25, 1960 – Leaving Sunday for 12 days at Girl Scout Camp Latonka at Lake Wappapello were Gail Patricia Tibbles and Mary Karen Lail, 806 Themis, members of Troop 1
June 18, 1964 – Miss Gail Tibbles, the daughter of Mr. and Mrs. Ray Tibbles, and Miss Linda Schumacher, the daughter of Mr. and Mrs. Leonard Schumacher, 1613 Kurre lane, will leave on Sunday for Camp Bear Creek on Kentucky Lake, near Benton, Ky.
May 18, 1968 – Bethany Baptist Church was the setting last Saturday for the afternoon wedding of Miss Gail Patricia Tibbles and Michael Adam Smith.