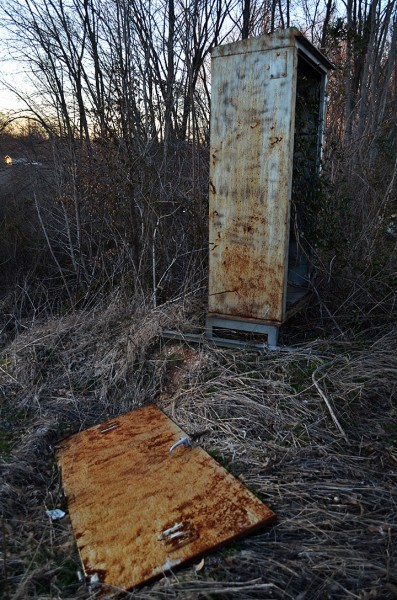 I've photographed the removal of the rails between Gordonville and Delta (one of these days I'll get around to printing them), but I didn't know if the flooring and rails were still intact on the bridge spanning the Diversion Channel south of Allenville. Here's what the bridge looked like in 2013.
The first thing that stood out was the door ripped off the cabinet that I assume contained the electrical equipment for the warning lights where the tracks crossed Hwy N. (Click on the photos to make them larger.)
Trees blocked the way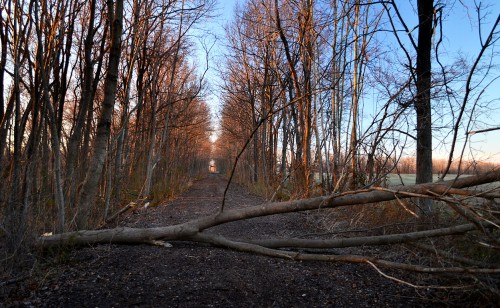 Walking was easier than the last trip when Friend Shari and I visited. Pulling up the rails and ties provided a nice surface. The roadway was probably TOO nice, so someone felled trees across the way in several spots to keep people from driving down it.
Either that are there are some highly selective square-toothed beavers at work.
Ties pushed off to the side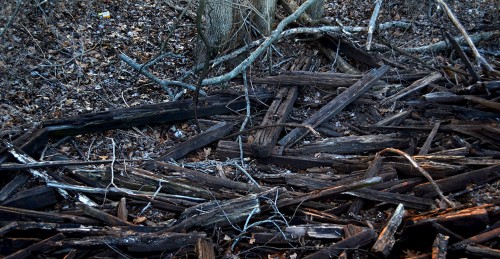 It's obvious that steel rails were worth salvaging, but there was no value in the rotted ties that were pushed off to the side to go back to nature.
Riddle of the Spinx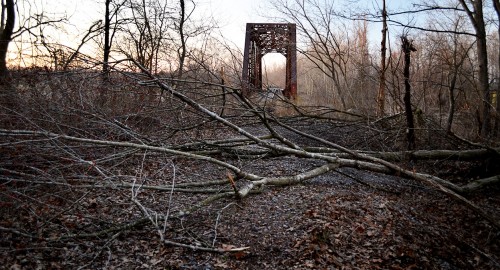 When I encountered the final barrier, I realized that I could no longer leap, scramble and scamper like I once could. Now, better than when I was young, I could interpret The Riddle of the Spinx.
In Greek legend, the Sphinx devoured all travelers who could not answer the riddle it posed: "What is the creature that walks on four legs in the morning, two legs at noon and three in the evening?" The hero Oedipus gave the answer, "Man," causing the Sphinx's death.
On the way back, I snagged a branch suitable for a walking stick because, alas, I felt that I had reached Evening.
The bridge
When I finally got to my target, I was glad to see that it was still mostly intact. A few feet of rails at the ends of the structure had been removed, but the bulk of the 1918 bridge was still there.
I'd like to have stuck around longer, but the light and the temperature were both falling rapidly. I didn't want to try to pick my way through the barriers by feel.