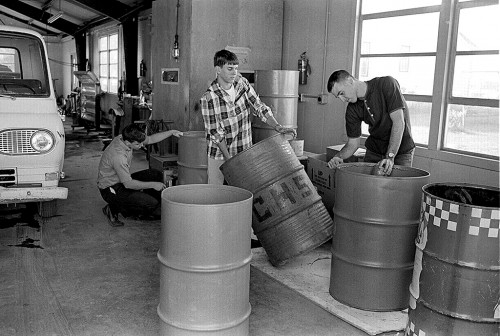 "Barrelling Along: Centralites "barrelled" along this week, planting shrubs, cleaning seats and picking up litter as part of NBC (Now Beautify Central) Week," read the caption on The Missourian's Youth Page April 29, 1967. "Busily painting the school's trash barrels are, from left, Jim Froemsdorf (committee chairman), son of Mr. and Mrs. Martin Froemsdorf, 1619 Schivally; Gene Feuerhahn, son of Mr. and Mrs. Ray Feuerhahn, 1721 Perryville road, and Rommie Holland, son of Mr. and Mrs. Dale Holland, 1509 East Riverside."
Planting shrubs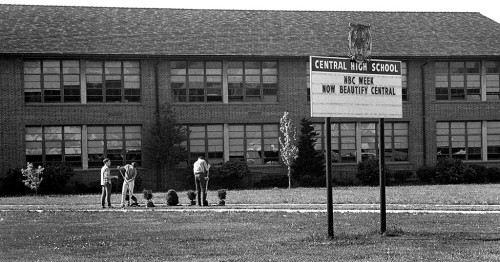 One guy digging, one guy thinking about digging, one guy supervising. The sign, by the way, was a gift of the Class of 1965. I pushed for something more academic, like books for the library, but we ended up with a sign that disappeared after a relatively short number of years. Young whippersnappers should note the absence of any air conditioning units sticking out of the windows. When it turned hot, we studied hot. Fortunately, only freshmen had to chop wood to warm the classrooms in the winter.
Scavenger hunt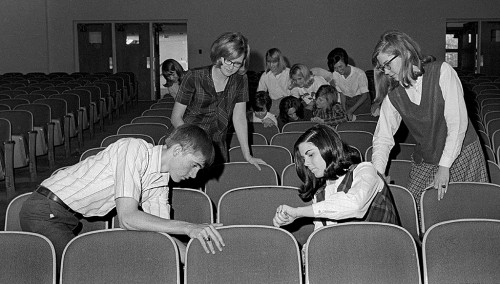 These students are on a hunt for any salvageable pieces of gum stuck to the seats. The group in the back appears to be hot on the trail of a good piece. The foreground students seem a bit less enthusiastic.
Cheerleader tryouts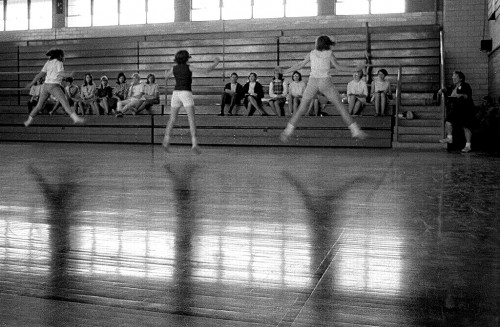 I must have walked through the gym during cheerleader tryouts because it's on the same roll as the NBC photos. That might be PE teacher Ellen Towse on the right. The man in the middle might be Calvin Chapman.
The picture is pretty much unremarkable, but I DO sort of like the shadows on the floor.
Housekeeping Note
Some of you have accused me of slacking off the past few days because you haven't gotten an email in the morning telling you that there is new content. For some strange reason, the program that sends those out has hiccuped. Son Matt and I have done everything but sacrifice a chicken to get it going. I hope it wakes up in the morning. Be assured that you can go directly to the site without me nudging you. Sorry for the inconvenience.