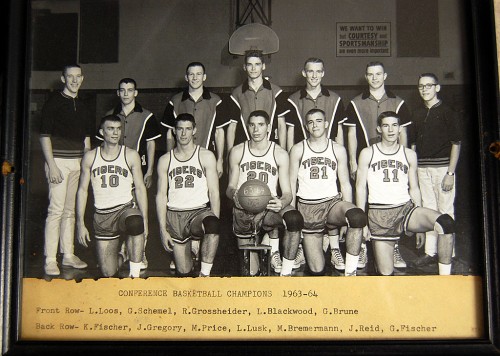 A Facebook friend my age said she had been showing her teenage son her old yearbook. "As we went through it I had to say at several photos 'this one is dead.' It was sobering to us both to see those young faces and know that some of them are gone now, some for a long time. But then I remembered his yearbook had two in memory pages. Some die so young and never have a chance at life."
Gary Schemel 1946 – 1965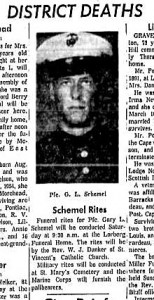 While looking for something else, I ran onto an obituary photo of Pfc. Gary Leroy Schemel, who was No. 22 in the photo above of the 1963-64 Conference Basketball Champions.
I remembered that Gary had gone into the service right out of school, and I vaguely remembered that he was one of the first of our classmates to die in Vietnam, but I didn't know any details.
The Oct. 8, 1965, Missourian story was equally vague. It just gave the date of the funeral and that military rites would be conducted at St. Mary's Cemetery.
Gary's name is on Freedom Corner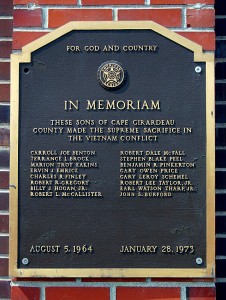 All of a sudden, it seemed like I was running into Gary's name all over the place.
When I photographed Cape Girardeau's Freedom Corner honoring the war dead from World War I onward, I noticed his name.
When Terry Kitchen was telling the story about ghosts at Central High school, he pulled out some of the yellowing championship team photos he had salvaged from the dumpster, Gary was in two of them: the Conference Basketball Champs above and on the 1964 Conference Track Champions.
1964 Track Champ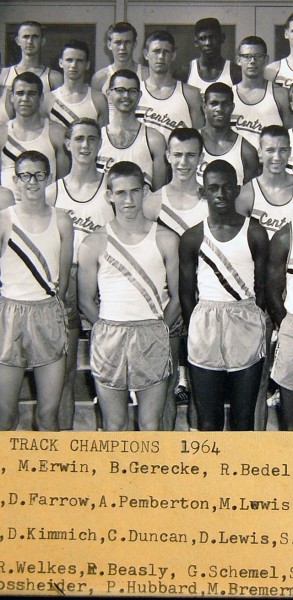 Gary is the fourth from the left in the top row.
I couldn't find anything in the Google News Archives of The Missourian about Gary, but that's probably because of errors in the index.
Schemel profile on www.virtualwall.org
I did find this profile at The Virtual Wall:
Gary Leroy Schemel
Private First Class
PERSONAL DATA
Home of Record: Cape Girardeau, MO
Date of birth: 01/04/1946
MILITARY DATA
Service: United States Marine Corps
Grade at loss: E2
Rank: Private First Class
MOS: 3500: Basic Motor Transport Man
Length Service: 01
Unit: SUBUNIT 3, H&S CO, H&S BN, 1ST FORCE SVC RGT, FORCE LOG CMD, III MAF
CASUALTY DATA
Start Tour: ——
Incident Date: 09/26/1965
Casualty Date: 09/26/1965
Age at Loss: 19
Location: Quang Tin Province, South Vietnam
Remains: Body recovered
Casualty Type: Non-hostile, died of other causes
Casualty Reason: Ground casualty
Casualty Detail: Drowned or suffocated
ON THE WALL Panel 02E Line 095
THE VIRTUAL WALL ® www.VIRTUALWALL.org
Remembrances on The Wall
The Virtual Wall says that two remembrances have been left on The Wall for Gary:
From his niece, Ramona Hobbs: Gary Leroy Shemel was the second oldest of six children, Barbra, Daniel, Donna, Joyce and Randy. He was also survived by his mother Anna. His father passed away from cancer when Gary was a child.
A 1932 poem by Mary Frye posted by Bob Ross, a fellow Vietnam veteran: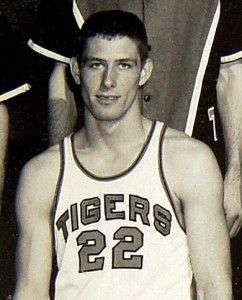 Do not stand at my grave and weep.
I am not there; I do not sleep.
I am a thousand winds that blow,
I am the diamond glints on snow,
I am the sun on ripened grain,
I am the gentle autumn rain.
When you awaken in the morning's hush
I am the swift uplifting rush
Of quiet birds in circled flight.
I am the soft stars that shine at night.
Do not stand at my grave and cry,
I am not there; I did not die.