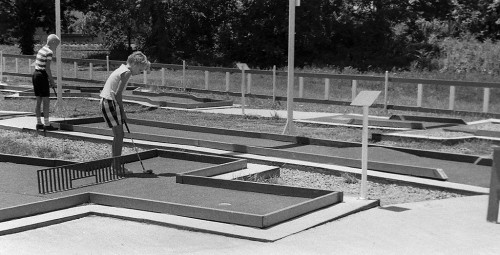 There has been some discussion on Facebook about the Putt-Putt Golf Course that was located on Independence across from Central High School. I was pretty sure I didn't have any photos of it, but I sort of played hooky tonight, which led to this discovery.
Wife Lila and I got a late afternoon invitation to go to dinner with the boys, wives and kids. It was made more special by Grandson Malcolm announcing he had won first place in his elementary school science fair. He'll represent his school in the next level of competition soon. He and Dad Matt built a trebuchet in his backyard and calculated the best pivot point to get the greatest throw range. So, if you need to launch a bucket of boiling oil at your neighbor, give third-grader Malcolm a call. (And, he emphasized, do NOT call it a catapult. They are similar, but different siege devices.)
[Editor's Note: that wasn't particularly relevant to the story. I just had to find a way to brag on my grandkid.]
Thanks to Steve McKeown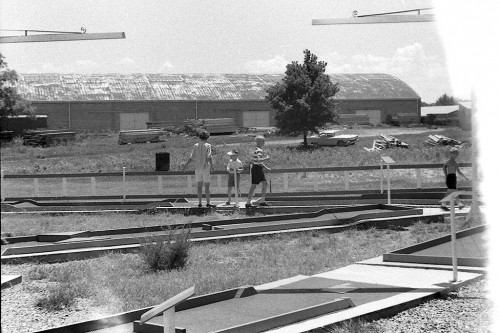 A year or so ago, Reader Steve McKeown sent me a whole flock of photos his dad, James D. McKeown III had taken. I was sifting through them when I saw these Putt-Putt photos. I wasn't exactly sure what I was looking at (Steve didn't provide any background with the photos), when I saw the building  in the background. That pretty much convinced that it was on the east side of Sheridan south of Independence. The top photo and some others have railroad tracks in them, making me even more sure of the location.
Yep, Putt-Putt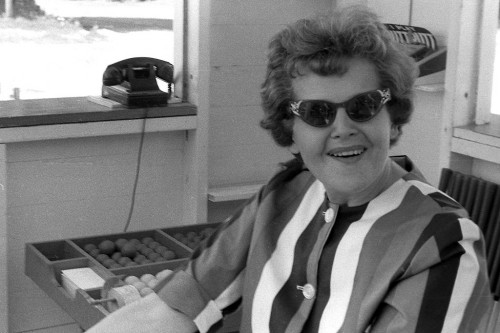 The clincher was when I spotted the words "I Play Putt-Putt" on a sign behind the woman's head. You can see the golf club handles behind her and a box containing scorecards, different colored golf balls and a roll of tickets.
Free Parking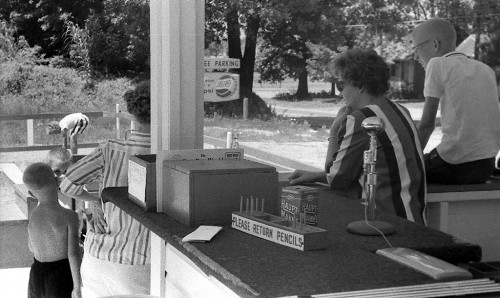 One of the selling points of the Putt-Putt was free parking.
Wooden chairs for the weary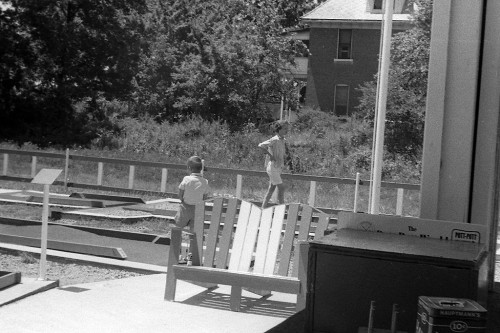 In case you got tired walking the course, Putt-Putt provided chairs built for two as a resting spot.
Grand opening in 1961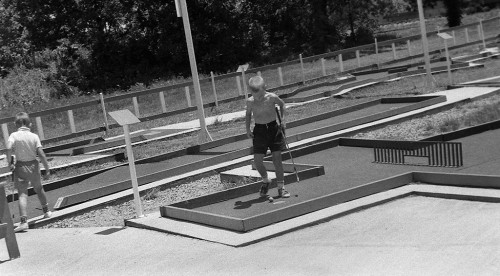 The only story that popped up in The Missourian was an Out of the Past column on June 12, 2011,that reported, "Grand opening of the new Putt-Putt Golf Course, a standardized miniature entertainment at 1739 Independence St., is set for next weekend; the 18-hole course is managed by Dean Brown and Kenny Hargens.