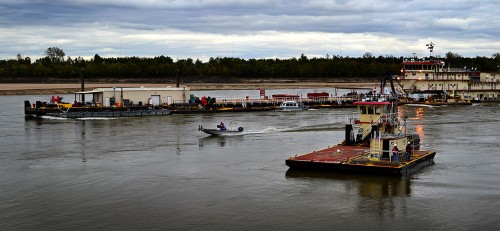 While I was shooting the sunken barges (and trapped by a freight train – more about that later), the Army Corps of Engineers' oldest dredge and one of its pushboats came by.
The Potter was built in 1931 or 1932, depending on which source you check, by Dravo Construction of Pittsburgh, Pa. She was originally a steam-powered paddlewheel, much like the Ste. Genevieve I photographed visiting Cape in the mid-1960s.
Potter's job is to maintain a 300-foot-wide, nine-foot-deep channel on 300 miles of the Mississippi River between Saverton, Mo., to Cairo, Ill.
Prairie Du Rocher taking on crew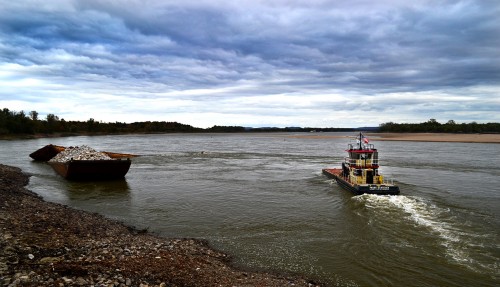 The Prairie Du Rocher headed to shore to drop its barge and to pick up two crew members before scurrying up the river to catch The Potter.
The small towboat or pushboat was built in 2002 by Main Builders of Utica Ind. It replaces an earlier Prairie Du Rocher built in 1970 and sold in 2005 under the name Lady Potasa.
Dredge Potter photo gallery
Here are more photos of The Potter and The Prairie Du Rocher. Click on any photo to make it larger, then click on the left or right side of the image to move through the gallery.