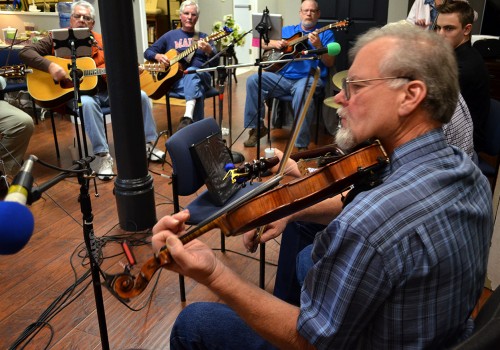 I know I did a story about the monthly "pickin'" at Jackson's Cape County History Center recently, but I was there again Saturday night and couldn't help shooting more pictures. It's officially promoted as a "Traditional Music Night," but everybody just calls it a "pickin'" where anybody with a musical instrument can sit down and play away. Miscues, false starts and forgotten lyrics add to the fun.
The first performance I attended had maybe a dozen or so people singing, toe tapping and clapping with the musicians. Attendance Saturday night was just under the number where the Fire Marshall might get interested. (Director Carla Jordan is working on that problem.)
Gary R. Lucy exhibit still up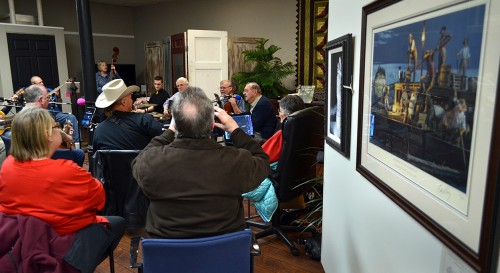 The panels for the Gary R. Lucy exhibit took up the center portion of the room, but there was plenty of seating around the edges. If you haven't been in to see the exhibit, it'll be up until April 10.
Doc – a Leap Year baby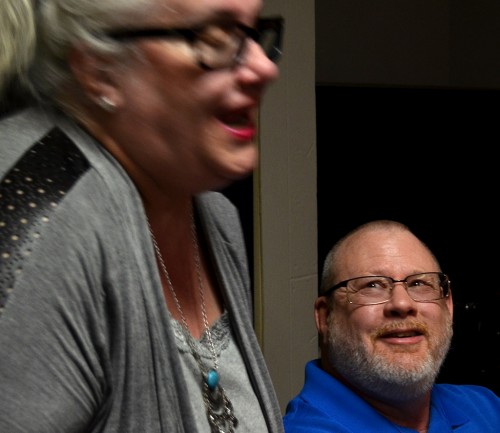 Carla's husband Steve Jordan – better know as "Doc" – looks on while Carla sings a song with a confusing chorus that most of us were afraid to join in on because we weren't sure what would come out if our tongues got tangled. He was born on February 29, the same date as the bass player, so they are going to be carded for a long, long time.
History Center photo gallery
Click on any photo to make it larger, then use your arrow keys to move around the gallery. Toe-tapping is allowed, but mouse clicks work better.