When Road Warriorette Anne and I drove by this barn on MO C on the way to Altenburg in the summer of 2013, I knew it was just a matter of time before gravity won.
Being taken apart

While I was enjoying my usual Wednesday night feast of liver and onions at Altenburg's Mississippi Mud Tavern, I asked Museum Cat Herder Gerard when the old barn south of town finally gave up the ghost.
He said someone was dismantling it. I'm glad to hear that it might get a new lease on life from someone who appreciates old barn wood.
The Golden Hour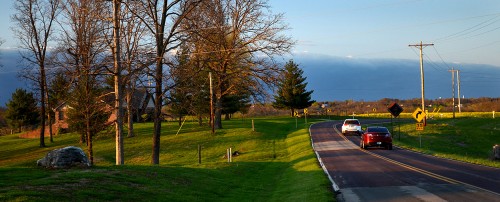 Photographers and medical folks both talk about "The Golden Hour." To shooters, it means that magic hour before sunset or after dawn when the light becomes softer and warmer. At least, I know it does at sunset. I rarely have an opportunity to see if it happens in the morning.
During World War I, military surgeons observed that patients who received immediate treatment had a much better survival rate than others. Dr. R. Adams Crowley said, ""There is a golden hour between life and death. If you are critically injured you have less than 60 minutes to survive. You might not die right then; it may be three days or two weeks later — but something has happened in your body that is irreparable."
Later studies have shown there is no sudden drop off after exactly 60 minutes. It's not the exact time that's the key; it's just the sooner you get help, the better.
After I took the barn photo, I turned to put my cameras back in the car and saw the effect of The Golden Hour on the road curving away in the distance with people going home. The barn picture was actually TOO golden for my taste. I dialed back the color a tad to keep it from being overpowering.
As always, you can click on the photos to make them larger.