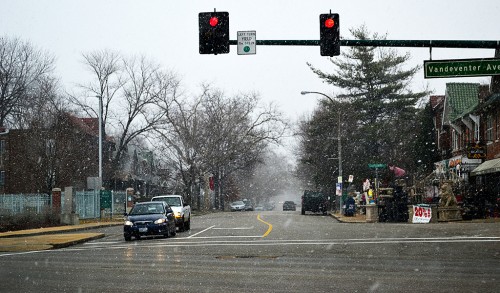 I decided to stay over in St. Louis Tuesday night because it was snowing a little and I didn't want to run into icy conditions on the way south. Ironically enough, it was snowing harder Wednesday afternoon than it had the night before.
I was running low on gas, so I stopped to fill up before getting on the road. While watching dollars get sucked into my tank, I noticed white pellets on my dark coat. This isn't too bad, I thought.
It was coming down a little harder when I spotted the store on the right. Wife Lila has a birthday, Valentine's Day and the anniversary of our first date coming up in February, and I saw something that might get me off the hook for being in Missouri all of February. It'll be our secret, though. Don't tell her.
Snow filled my mirrors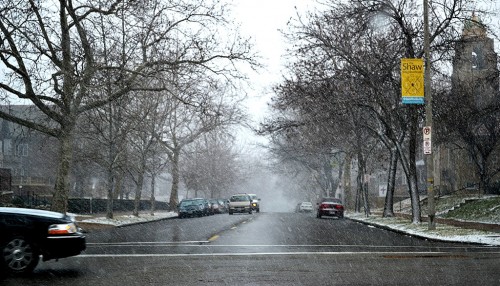 While I was parked at the store, the wind and snow were blowing up from behind the car. I came out to find my rearview mirrors packed with snow and the snow starting to stick on the ground. It was also clinging to the sides of the trees. (Like always, click on the photos to make them larger.)
Hoping school would be called off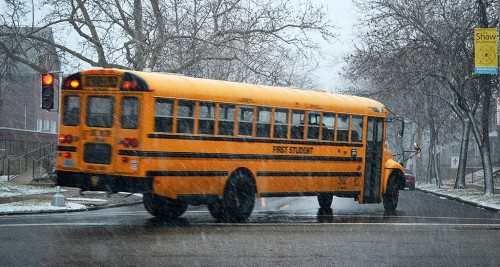 Seeing the school bus pass made me remember the old days.
Many a night I'd get up to look at the sky against the streetlight outside the bedroom window to see if a predicted snow had arrived. School officials back then, knowing that most of the students walked to school uphill and barefooted, figured we were tough enough to handle two or three feet of snow, so classes were rarely cancelled.
Of course, that would set me to stomping around the house railing, "What are they trying to do, kill us?"
Not quite sticking to road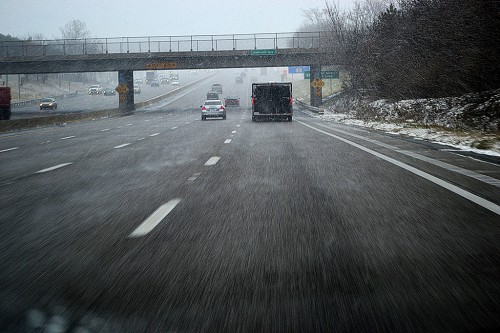 Even though the snow Wednesday was wetter than Tuesday's, it wasn't sticking on the road yet. I saw salt trucks out later, but they may have already made a pass.
Swirling snow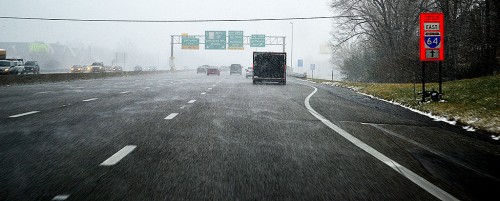 The strong side wind and the rush of traffic made the snow slither and swirl making me think of a ghostly white snake running in front of me.
Gee, no kidding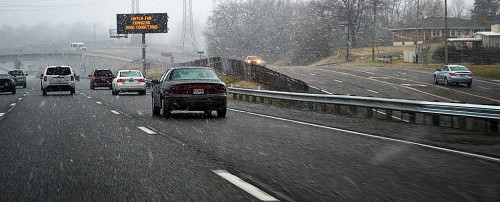 The helpful highway sign suggests that we "Watch for Changing Road Conditions." Like we'd never have thought of that on our own.
The snow stopped at Pevely, just like someone had thrown a switch.  There was quite a bit on the ground around St. Genevieve, but the middle of the trip was precipitation free. About 35 miles north of Cape, around Perryville, it started coming down hard again and continued all the way into Cape. That's funny because Perryville was always the weather system dividing line: if there was snow in the region, it usually STOPPED at Perryville.
I'd have shot more pictures, but I had forgotten how cold weather will drain camera batteries. I can usually shoot 500 or 600 pictures between charges, but not on this trip.