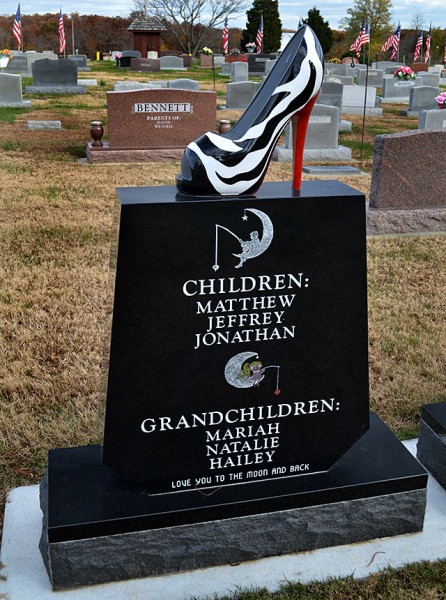 I love roaming around in cemeteries. It's a good way to get a feel for communities: how old they are; who the prominent families are; when epidemics swept through… Most tombstones are pretty ordinary: birth date, death date and a standard inscription.
Sometimes, though, you stumble across stones with personality. This beautiful shoe in Bollinger County Memorial Park caught my eye from five rows away. I just had to see what that was all about. (Click on the photos to make them larger.)
Husband: "I Made It"
It turned out to be a pair of tombstones side by side for Roger Elmer Damlow and Wilma Lee Damlow. His stone has the symbol of the United Brotherhood of Carpenters and Joiners of America on it.
At the bottom is the inscription, "I MADE IT," which you would think appropriate for a craftsman.
Wife: "I spent it"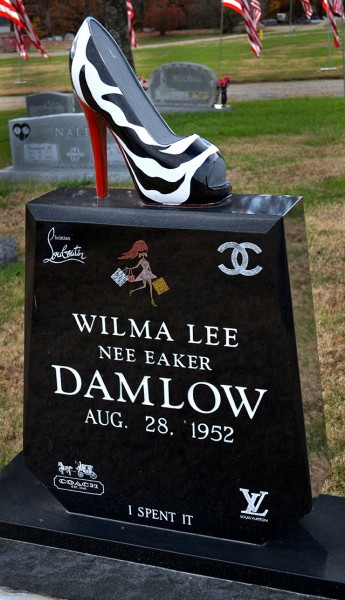 His wife's stone, though, gives his phrase a different spin. "I SPENT IT," it proclaims. Her stone is decorated with logos for designer products. (I have to wonder if those companies will go after her for trademark infringement or if they will be flattered to be remembered that way?)
Since neither of the stones has a death date on it, the couple is probably still alive and could tell the story behind the stones, but I'd rather speculate.
Penny Lou Klingel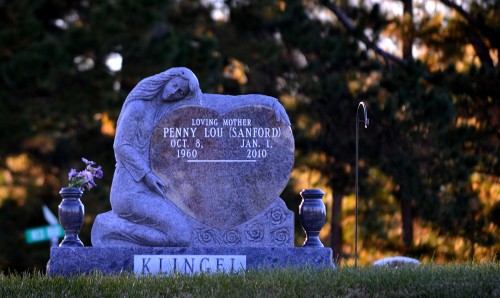 Penny Lou Klingel's marker in Scott City's Lightner & St. Joseph Cemetery was strikingly unusual from the front. I spotted its shape from a distance, grabbed a telephoto lens to get a closer look, then had to walk up to see what the back looked like.
"Later, Dummies"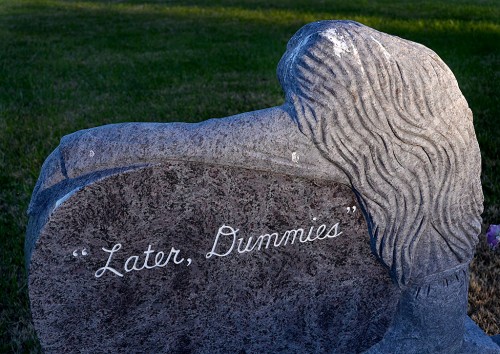 It was worth the walk. The back side of the stone that had the kicker: "Later, Dummies."
I can only guess that was one of her favorite sayings.
Here is a link to a set of tombstones I found in Athens, Ohio, this summer. One was heartrending; the other had a touch of whimsy.