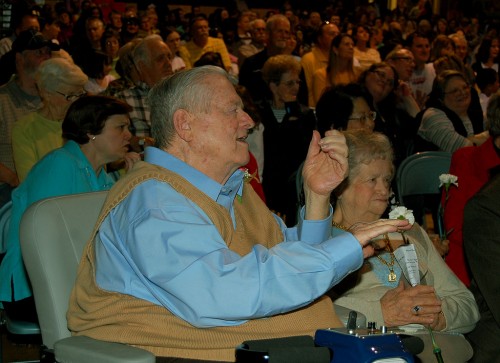 Roy Glass, 81, of Jackson, died Friday, September 6, 2013, at the Missouri Veterans Home. He served as principal of Alma Schrader School for 21 years.
I photographed him in 2010 when the school celebrated its 50th anniversary.  The Missourian's September 8 obituary read, in part, "He was born Oct. 3, 1931, in Biggers, Ark., son of Raymond H. and Nancy Hudgins Glass. Roy was a corporal in the U.S. Army during the Korean War.
Roy was an avid Cardinals fan, and enjoyed John Wayne movies and cattle farming.
Survivors include his wife, Iverne Glass of Jackson; a son, Kevin (Ann) Glass of Bowling Green, Mo.; a daughter, Marilyn (Kevin) Perego of Ballwin, Mo.; a brother, Douglas (Yvonne) Glass of Williamsville, N.Y.; seven grandchildren, Neil Glass, Kyle Glass, Kent Glass, Jeni Glass, Andy Glass, Paige Perego and Matt Perego; and six great-grandchildren.
He was preceded in death by his parents; a son, Ron Glass; and two brothers, Bill and Jim.
[Editor's note: I don't know when Missourian obits became so informal. We would never have referred to the deceased by a first name when I was writing them.]
Grandson used to play in gym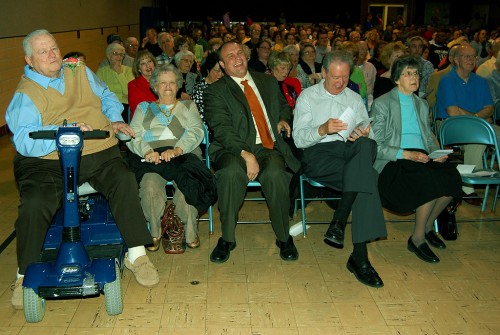 At the 50th anniversary, Roy's grandson, Neil Glass, third from left, director of administrative services, said he used to ask his grandfather for the keys to the school so he could play in the gym when he was a kid.
"I hope you don't get in trouble for that," he joked. "I didn't turn on the lights," he added.
Other Alma Schrader stories
Here are some other Alma Schrader stories.