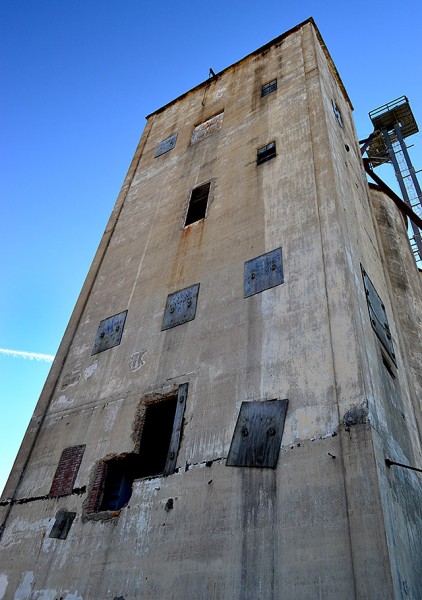 I was really intending on checking out Chaffee, but I was tempted by a sign pointing to Oran. I don't think I've been there in 40+ years, if ever. The first thing we saw when Mother and I went around a curve into town was the imposing Guardian Angel Catholic Church. It's even more impressive inside than outside. I'm saving it for another day.
The second largest building to catch my eye was the grain elevator at the edge of town. I thought it might be abandoned, but I heard a faint noise and discovered a vent fan blowing and mildewed corn spilled on the ground. At least part of it much be active.
Iron Mountain Railroad depot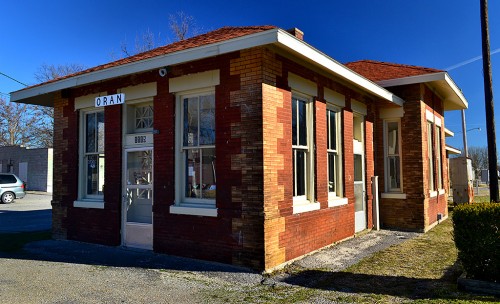 I identified this building as a train depot before I saw the sign and even without railroad tracks running next to it.
Jim Razor: born 1869; Died 1969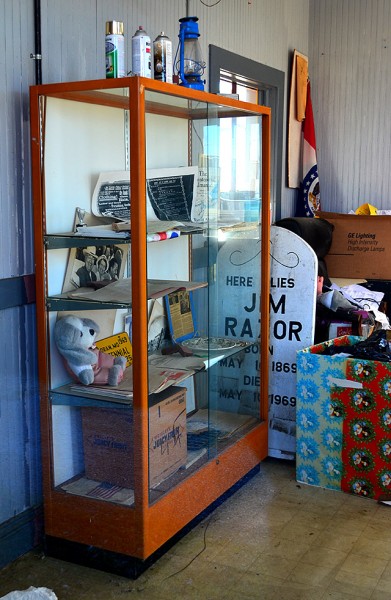 If the signs are to be believed, it was once the Iron Mountain Railroad depot and is currently being used by the Chamber of Commerce. It doesn't look like it gets too much activity: a tombstone for Jim Razor, born May 10 (?), 1869, Died May 10 (?), 1969, must be a leftover from the town's 1969 Centennial celebration.
Red building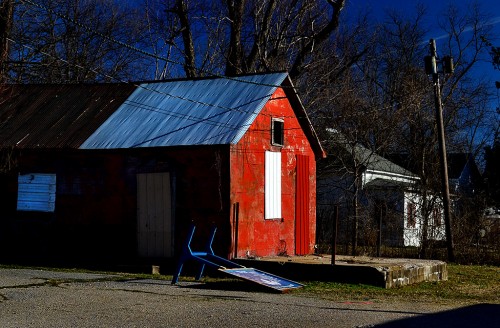 I don't know if this building has any significance. It was behind and near the Chamber of Commerce depot building. I just liked the way the afternoon sun brought out the red.
Oran City Hall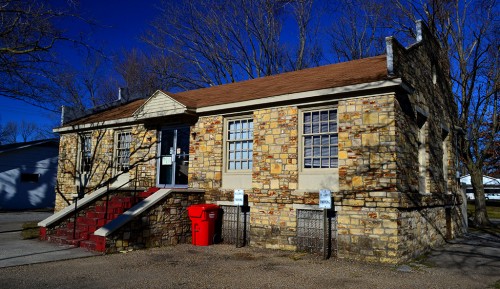 My first guess was this building was the Oran Library, but that turned out to be next door. This is the Oran City Hall. The use of local stone makes it striking. It has the feel of a WPA project, but I didn't notice any markers to indicate that (not that I looked too hard. It was turning chilly when the shadows started drawing long).
Oran photo gallery
Here are more shots of the buildings mentioned above. Click on any photo to make it larger, then click on the left or right side of the image to move through the gallery. Wait until I get around to running the church photos. I don't know how a place as small as Oran could support such a magnificent building.