A couple of Curator Jessica's coworkers who are in to Native American archeology insisted that she visit Cahokia Mounds when she went up to fly home out of St. Louis. The Mounds are across the river in East St. Louis. I think the last time I was there was in the 8th grade at Trinity Lutheran School when we went on a field trip to St. Louis.
The bus driver made a wrong turn and we ended up in East St. Louis, driving through neighborhoods that looked like a bombed-out East Berlin after World War II. We wide-eyed kids peered out the windows in fascination, but the driver and our chaperones were more than a little uncomfortable. They were trying to figure out a way to explain the loss of a whole 8th grade class. My impression was they were prepared to go down with the ship rather than have to do that.

Museum was closed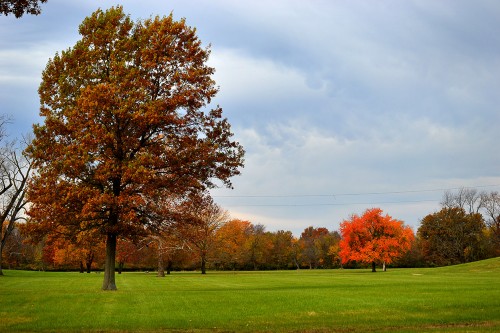 When we pulled into the site, we found the museum area was closed. Because it was a cold, windy day, we opted for a quick walk-around and then planned to head over to the Gateway Arch. The fall colors had pretty much peaked, but there were still splashes of brilliance here and there. (Click on the photos to make them larger.)
Monk's Mound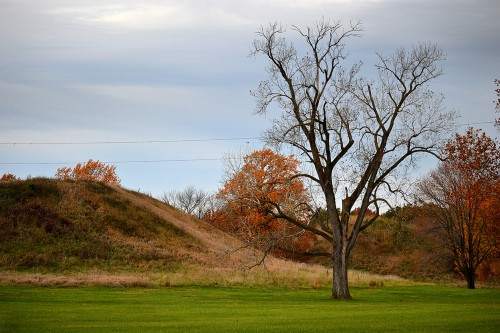 Off in the distance and across the road was the largest of the earth structures in the park: Monk's Mound, named for a group of Trappist Monks who lived on one of the nearby mounds and who gardened the first terrace of this one and nearby areas.
Largest earthen mound in North America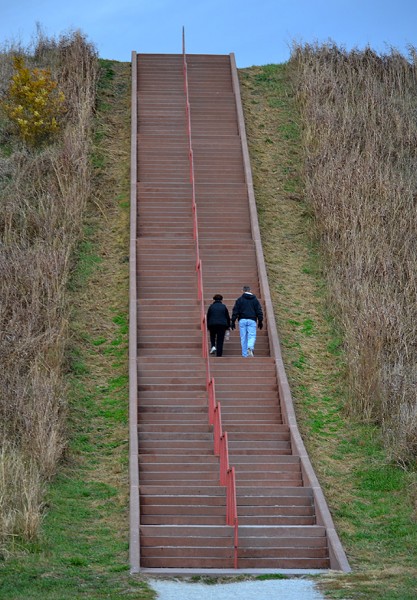 The historical site's webpage says this is the largest man-made earthen mound in North America. You get a hint of how tall it is when you see this steep staircase.
Now, back a couple of years ago when I was doing a lot of bike riding, I was in pretty good shape. I used to like to surprise techs who would come to service the cellular antennas on our building by running up the stairs.
Rashly, I said to Jessica, "Want to race to the top?"
Curator Jessica, who checks the obits every morning to see if I have kicked off so she can claim my Ohio collection of photos for her museum, gave me The Look and a nod. After about the first 20 stairs, I remembered that my travel partner is half my age (OK, MORE than half my age, but who counts half a decade or so) and is a runner. She showed the old man some mercy by matching my speed.
I kept my eye on the steps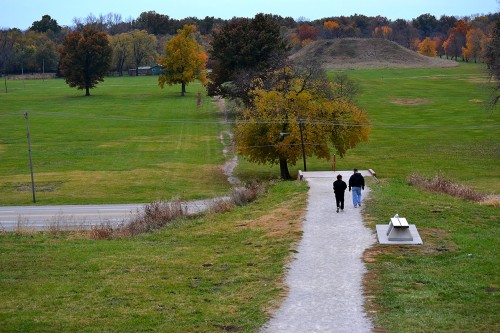 By halfway up, I was gazing down at the steps so I couldn't see how many more were left to climb. When we got to the top, I was congratulating myself for having gauged my energy levels just about right. I wasn't even breathing too hard.
That's when I looked up and saw that the mound had TWO levels and we had just reached the top of the first one. My legs turned to rubber.
On the way up what I hoped was the final set of stairs, I spotted lots of interesting viewpoints that called out for me to stop to record them. It was interesting how I kept finding more and more of those the higher we go.
That couple you see going up and down the mound? They said they climb it two or three times to stay in shape.
I refrained from remarking that one trip up says you can pass the aerobics test. The third trip up would mean you failed the IQ test.
A puzzle for space aliens
Once you regain consciousness at the top of Monk's Mound, you can look west for a spectacular view of St. Louis and the Gateway Arch at the left of the frame.
If I'm reading the map correctly, the flat mound in the middle foreground is Mound 42, also knows as Merrell Mound. It is well preserved and supposed to be very near in its original form except that the top was leveled to support a house that stood there for nearly 100 years.
In the far distance is a huge mound that is larger even than the one that nearly killed me. Future archeologists (or space aliens) will have a field day trying to reconstruct the religion of the area's inhabitants based on the relics they find there. What is it? It's a modern-day landfill.
[Editor's note: I think there's only one more Curator Jessica story left from this trip: her visit to the Gateway arch, including a photo of her licking the arch, which I convinced her was a requirement of all first-time visitors. (THAT'LL get even with her for the Mounds expedition.)]