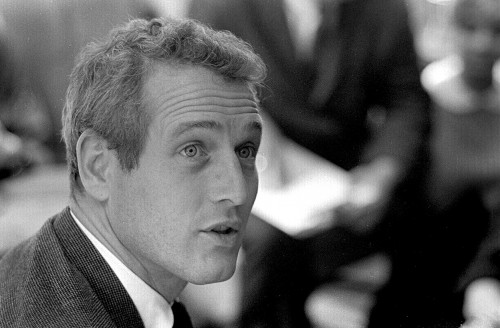 The big news was that Paul Newman was coming to the Ohio University campus in January of 1968 to stump for Eugene McCarthy. I covered the event for The Ohio University Post.
Some bios say that Newman was a student at Ohio university and lived in the very same Scott Quadrangle dorm I did. [He couldn't remember where his room was; I asked.]
Some say he left the school to join the armed services in 1942. He wanted to be a pilot, but washed out because of color blindness. He served as a turret gunner on an Avenger aircraft. Because of a twist of fate – his pilot developed an ear infection and was grounded – he was not on the USS Bunker Hill when it was hit by kamikaze attacks that killed more than 300 sailors.
Was a keg involved in his departure?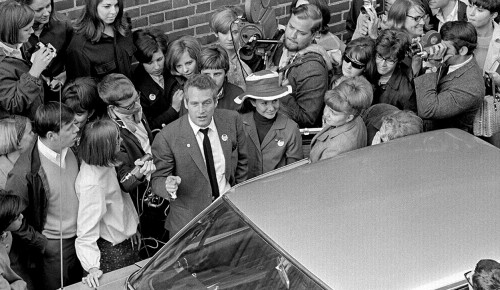 Other bios say that he was invited to leave the university after he rolled a beer keg down Jeff Hill and bounced it off the president's car. He mentioned "It's good to be home" in his remarks, but he did not bring up anything about an errant beer keg.
Students mobbed the car carrying Newman and his wife, Joanne Woodward, when they arrived.
Jon Webb doing Hail Mary
Jon Webb was the photographer at The Athens Messenger who started the daily picture page. I idolized the guy's work. Still, it gave me a small amount of pleasure to see him doing a Hail Mary shot, something photographers do when they are out of position or hemmed in and need to try to get SOMETHING.
The story in The Post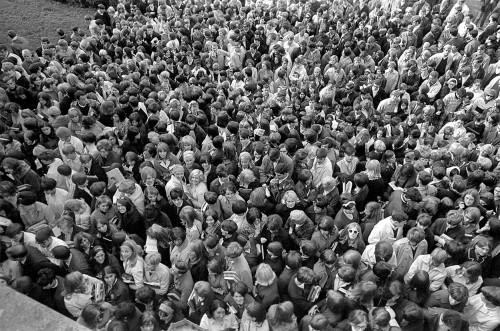 Here is the story that appeared in The OU Post, along with two of my photos:
"It's good to be home," Paul Newman said as he walked up to the microphone on the stage of Memorial Auditorium yesterday after being mobbed by students outside.
The former Ohio University student who dropped out of school to join the armed forces in 1942 urged a crowd of some 3000 students to make "a rich physical commitment" to the presidential candidate of their choice.
Young people are McCarthy's capital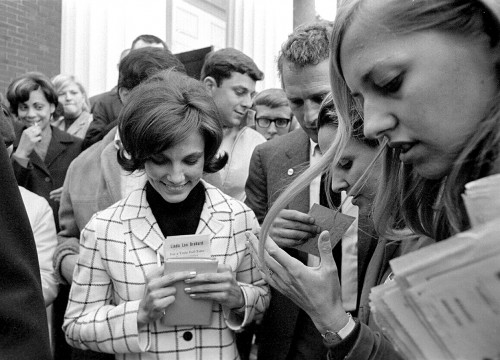 Urging the crowd to help campaign for Eugene McCarthy in Indiana this weekend, Newman said, "We can't afford to pay your way like some of the other candidates. We don't have the capital – you young people are McCarthy's capital."
Newman at Press conference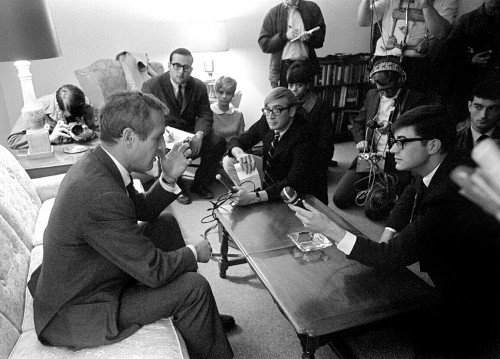 In a press conference, Newman said he supports the Minnesota senator because "his credentials are better than anyone else and he has demonstrated his courage."
"McCarthy rises above politics to become a statesman. He deals with things on a higher level: an intellectual strategy, not just a political strategy," the actor continued.
Wanted to say he was part of his time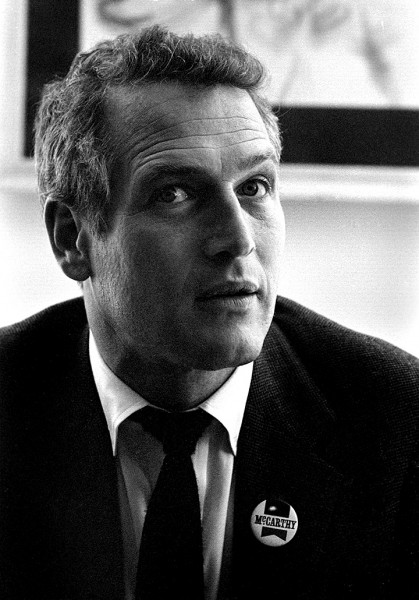 "I don't know if my campaign will persuade anyone, but that's not going to stop me," he said. "I have six kids and I don't want them to say I was never part of my time."
Newman, who also visited the Ohio State and University of Cincinnati campuses yesterday, was presented with an Ohio University sweatshirt by students in the crowd.
A Harry & Son encounter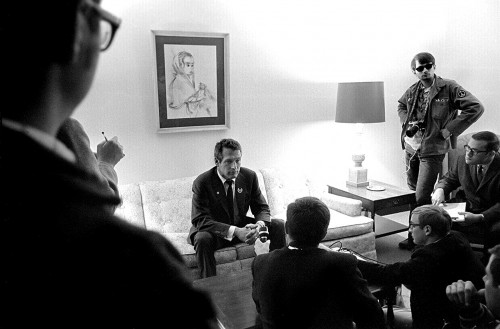 For the record, I don't recognize Mr. Cool, the photographer on the right. He wasn't on the staff of the newspapers nor yearbook. He must have been one of the Fine Arts students.
I brought up another Paul Newman anecdote when I wrote his obit on my bike blog.
Newman arrived in Lake Worth, Florida, to film Harry & Son in 1984. I went to the set, not to take pictures, but to ask the movie crew if they could switch to a different two-way radio frequency because it was interfering with The Palm Beach Post's radio system. That was a particular problem that morning because a an airliner inbound to Palm Beach International Airport had declared a mechanical emergency. The reporters and photographers scrambling to get into position were being overridden by the movie crew.
It happened because the FCC assigned newspapers and movie crews a shared group of frequencies in the 173 MHz range. Movie companies would frequently rent their radios from a Ft. Lauderdale company and pick a channel at random. In this case, they grabbed 173.275, which we used.
They were nice enough to switch when I pointed it out. (The plane landed safely, by the way. It was a faulty indicator light in the cockpit.)
Paul Newman photo gallery
Click on any photo to make it larger, then use your arrow keys to move through the images.