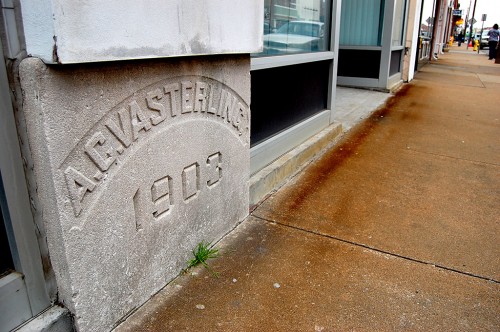 I went to get something out of my van parked at Broadway and Fountain when I noticed a cornerstone for the first time: A.C. Vasterling 1903, it read.
It was on a light-colored three-story building next to where the Idan-Ha Hotel used to stand. A quick search didn't turn up about Mr. Vasterling, except that it sounded like he had been a mayor at one time. There was a Google-scanned document called Barrel and box and packages, Volume 19, by Edgar Harvey Defebaugh that had this brief item that made it sound like Vasterling was a mover and shaker:
Himmelberger – Vasterling wedding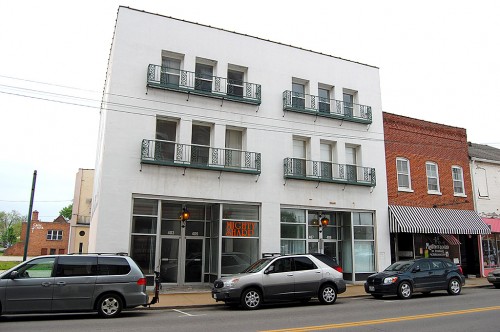 Charles A. Himmelberger, of Cape Girardeau, Mo., and Miss Louise Marguerite Vasterling were married June 16 [possibly 1914]. Mr. Himmelberger is the son of J.H. Himmelberger, the well-known lumberman of southeast Missouri and president of the Hardwood Manufacturers of the United States. The bride is a daughter of A.C. Vasterling, one of the best-known insurance men of Missouri.
Dinner party for newlyweds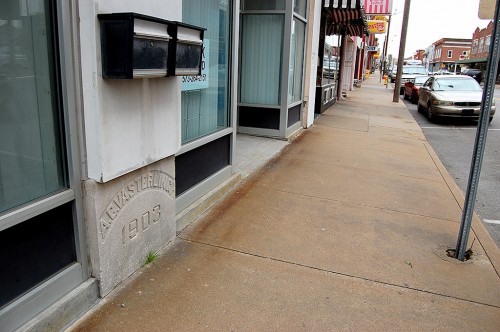 A Missourian story on January 2, 1920, carried this brief: Mrs. Charles Himmelberger entertained at a dinner party last night at her home at 325 North Sprigg street in honor of Mr. and Mrs. A. C. Vasterling, who were married on Christmas day. Mrs. Laura Pape, Miss Lizzie Vasterling and Mrs. J.F. Williams were the other guests present.
Firsts of 1920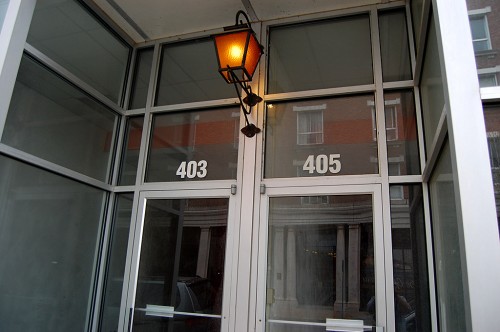 In the same paper was this lists of "firsts" of 1920:
First Baby – Marguerite Oliver Dearmont, 9:30 a.m. Jan. 1.
First Death – Mrs. Mary Herbst at her home, as clocks announced arrival of new year.
First Accident – Albert Mason, fireman, badly burned at 4 p.m., Jan. 1.
First Court Case – Suit of a hound dog, won by Cicero Estes.
First Snow – 2 a.m., Jan. 2