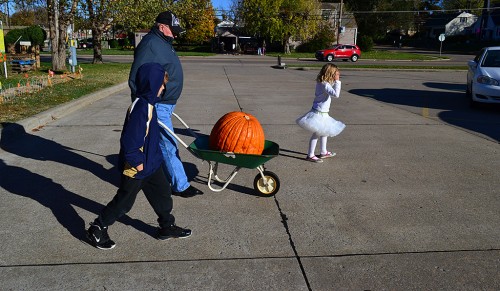 1,396 pumpkins on the lawn, take one down, pass it around, 1,395 pumpkins on the lawn.
That's the way it has been going since 1,396 pumpkins arrived at the Grace United Methodist Church's Grace Pumpkin Patch on Oct. 6.I didn't do an actual count, but I don't think more than about three dozen were left.
Jim Englehart wheels a monster pumpkin out to the van for Riley, 8, and Delaney Daugherty, 5. This guy was at the top end of the $3 to $30 price range and was the last of the big boys left on Halloween afternoon.
Come from New Mexico
The pumpkins come from an Indian reservation in New Mexico and are raised for a wide variety of churches and charitable organizations. The growers set the price based on size and the organizations get a percentage of the sale money. They don't have to pay for any that go unsold. Anything left over after Halloween are destined for an Illinois hog farm, I was told by Marilyn and Barb Kinsey. The Patch has been selling pumpkins for about a dozen years.
Pumpkin Patch photo gallery
Click on any photo to make it larger, then click on the left or right side of the image to move through the gallery.