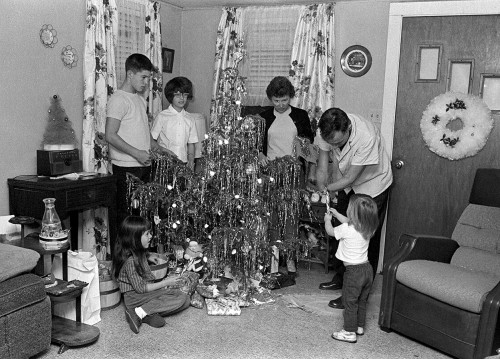 The Christmas Eve Missourian caption reads  "It's Great to be Home! 'Especially for Christmas' was the comment of Archie T. Smiley, 49, of 903 South Pacific, who recently won his battle for life following open heart surgery in Barnes Hospital in St. Louis. Here, Mr. Smiley decorates the Christmas tree in his home with the help of his wife and children. From left, standing, they are Thomas Wayne (Butch), Beverly Ann, Mrs. Smiley, Mr. Smiley and Theresa Lynn. Sheila Kay is seated on the floor." (You can click on the photo to make it larger.)
I had heard of Mr. Smiley before, but didn't remember shooting his photo or much about his story except that he had lost his hands and that he ran a bicycle repair shop. The 1966 story, which unfortunately has big chunks of type missing in key places, said that his hands were injured in a fireworks accident. Gunpowder entered his bloodstream after the explosion and caused blood poisoning. He was in the hospital on his graduation day, the story said, and the Chaffee High School principal "took him his diploma early for fear the lad might not live" to accept it later.
Stories mentioned that he played football in high school, repaired bicycles in a shop located in his home, drove a car and "managed handwriting better than most persons do with two hands."
Lots of news for a nickel on July 5, 1928
While looking for the original account of the 4th of July accident, I stumbled across these stories in the July 5, 1928, Missourian. You sure got your nickel's worth THAT day.
Community rallies for Smiley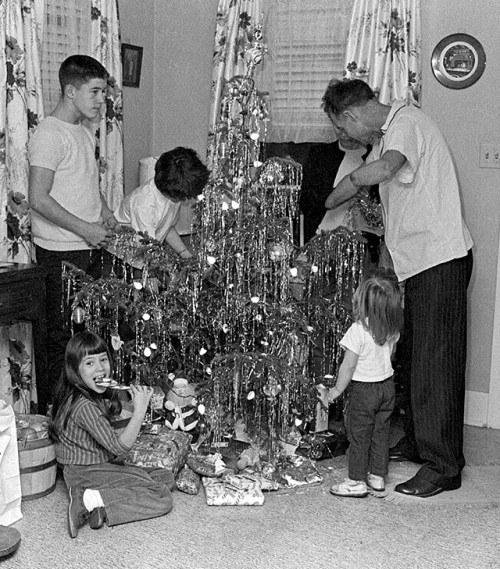 When Smiley needed heart surgery and family resources ran low, friends and strangers from all over the world started sending money. By Christmas Eve, the family had received about $2,200. His operation was to install a heart valve in a plastic cage inside his chest, said the story by Skeets Sonderman.
"Not only will this help pay my expenses, but now my family can have a nice Christmas. The children, however, will get mostly clothes and useful items. There will be toys for the younger ones, too," he said.