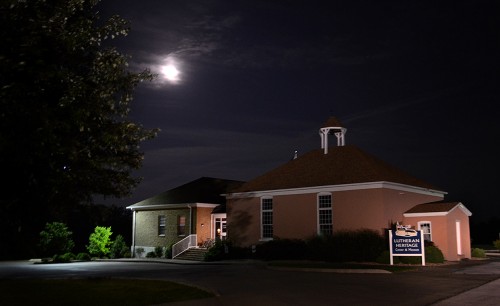 I spent the day roaming around in small coal mining towns I last saw in the early 1970s. It's funny how I would catch a glimpse of the side of a building and recognize it immediately, then pass through a whole town without a flicker
Athens Historical Society Museum curator Jessica Cyders and I met with some members of the Little Cities of Black Diamonds to see what mutual interests we might have. I photographed the architecture in town of Shawnee in 1969 for an independent study course. It felt good to see so many buildings still standing. Some are a bit wobbly, but I don't stand so straight these days, either.
Lutheran Heritage Center
The photo above isn't from Shawnee. It is the Lutheran Heritage Center and Museum in Altenburg taken under the full moon. I described all kinds of technical machinations for shooting Tower Rock the other night. This is decidedly low-tech. I shot it out my car window. The shutter speed was slow enough that I had to turn off the motor to get it anywhere near sharp.
The moon provided some nice backlighting, but the right side of the building was a trifle dark. I moved car slightly so the headlights hit it. It would have been a little more evenly lit if I had aimed the car a little more to the left.  I used that technique when I was doing a story on an old homeless guy who sold pencils on the street. I spotted him asleep on a dark park bench. Once I got the angle I wanted, I radioed another photographer to drive over and light him up.
Trinity Lutheran Church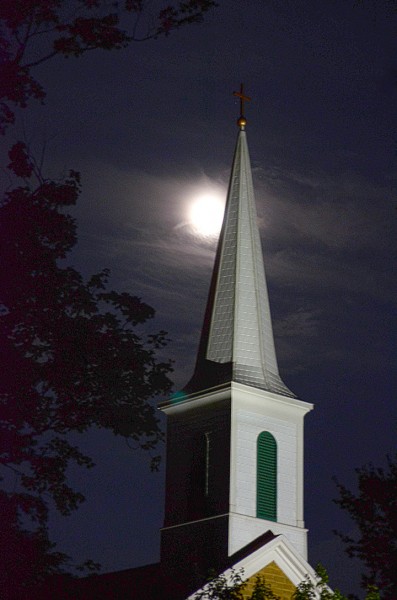 I was was headed to drop Gerard Fiehler off at his house when we decided to see how the moon looked on the Trinity Lutheran Church. I thought a street light made the building look ugly and was turning around when I shot the photo of the center. While I was doing that, Gerard got out of the car to see if he could find an angle where we could get the moon without seeing the street light.
His diligence paid off. It's not a great shot, but it's pretty good for a situation I was going to blow off.