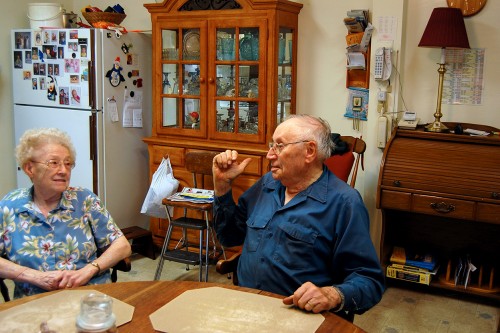 Wife Lila posted a sad note to Facebook on October 31: Early this afternoon, a lovely, sweet woman, my Aunt Rose Mary, slipped the bonds of earth into eternal rest.
She and I were close, and I never missed an opportunity to see her and my uncle whenever I was in town. She was kind, gentle and soft spoken. She always had a cup of green tea for me when I visited. We talked about family, of course, but we also talked about quilting and canning… two things she and I both did, until she couldn't in the last few years.
Funny thing… when I was a child, my mother, Rose Mary's older sister, would call me 'Rose Mary' about half the time, when she was sorting out children's names as mothers tend to do. I didn't mind. I will miss her terribly. Going back home won't ever be the same. .
This photo of Rose Mary and Ray Seyer was taken in 2010 when I recorded Ray talking about growing up in Swampeast Missouri, his World War II navy experiences, ghosts and his feeling that Rush Limbaugh, even as a teenager, was a "horse's patootie."
Rose Mary's obituary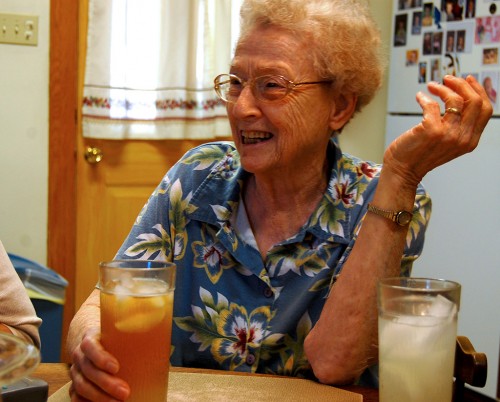 Rose Mary Seyer, 89, of Cape Girardeau died Saturday, Oct. 31, 2015, at Ratliff Care Center.She was born Dec. 9, 1925, in Cape Girardeau to John Jacob and Christine Rosolia Diebold Hoffman.
She and Raymond C. Seyer were married Feb. 26, 1946, at St. Mary Church in Cape Girardeau. Rose Mary was a graduate of St. Mary High School. She was a member of St. Mary Cathedral and St. Mary Ladies Sodality.
Survivors include her husband, Raymond C. Seyer of Cape Girardeau; children, Michael (Brenda) Seyer and Dan (Mary) Seyer of Cape Girardeau, Diane (Ray) Staebel of Liberty Hill, Texas, Janette (Stephen) Bennett of Alexandria, Kentucky, Joyce (Dave) Bruenderman of Cape Girardeau, Linda (Bob) Garner of Jackson, Ralph (Debbie) Seyer of Kirkland, Washington, and Steve Seyer of St. Clair, Missouri; 27 grandchildren; and 42 great-grandchildren.
She was preceded in death by her parents; infant son, Timothy G. Seyer; brothers, Adrian, Jerome, Norman and Charles Hoffman; sisters, Thelma Hoffman and Lucille Perry; and grandchild, Wendy Seyer.
Saying goodbye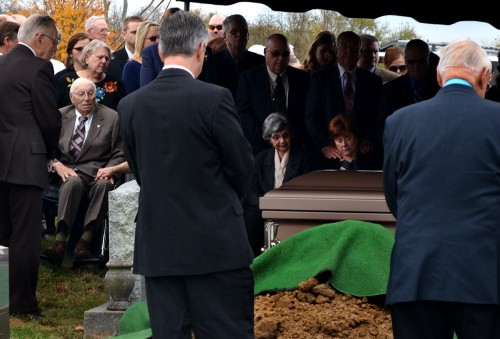 St. Mary Cathedral was full of friends and family for Rose Mary's funeral mass  on November 3. The funeral procession on the way to St. Mary Cemetery stretched for blocks.
"Family treasure"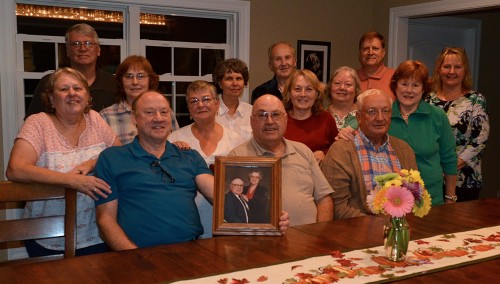 Lila posted to Facebook, "Spent the evening with people who mean the world to me…. my Seyer cousins. My life with them began when I moved to Missouri in 1957. We all are in town together because of the passing of their mother, my aunt Rose Mary. They give a whole new meaning to the term 'family treasure'. I love these people."
Photo gallery of Rose Mary's family
You can tell from the photos on the family refrigerator in the first photo that family was important to Ray and Rose Mary. Here's a photo gallery of the family gathering Thursday night at Linda and Bob Garner's home. Good times were remembered and thank-you notes were written. Click on any photo to make it larger, then use your arrow keys to move through the gallery.