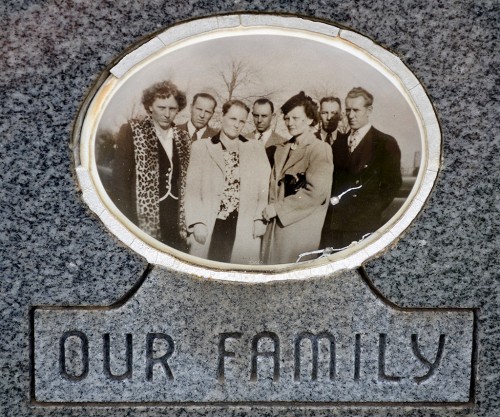 I spent a lot of my younger years in Southeast Missouri cemeteries because Mother and Grandmother made a point of keeping fresh decorations on the graves of family and friends. As a child, I was fascinated by two things in the Advance cemetery where my namesake, Kenneth Welch, was buried.
A few rows over from his stone was a marker with a photograph on it. On the left as you made the circle to leave the cemetery was a wooden box with a glass cover. Inside was an intricate hair bouquet made from the deceased's hair. The ceramic photo is still on the first marker, but there is no trace of the bouquet on the second one, and I've not been able to figure out which grave it marked.
Since then, I've been acutely aware of gravestones with photos on them. My interest was rekindled when I saw a photo of a young woman in her coffin on a stone in a church outside Gordonville.
Bollinger County Memorial Park Cemetery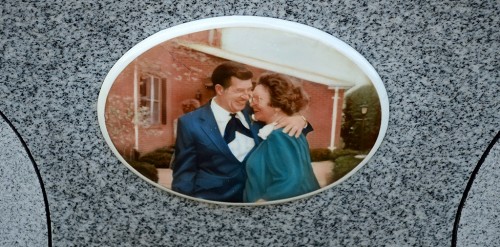 When Mother and I went down to the Bollinger County Memorial Park Cemetery outside Marble Hill looking for Veterans Day flag photos, I was amazed at how many graves were marked with pictures. This is the cemetery, by the way, that had the unusual shoe marker.
Some photos captured a tender moment in a pair of lives. Others were more formal. Some dated to the turn of the 20th Century, others had been taken in the past decade.
Toddler photo was hard to look at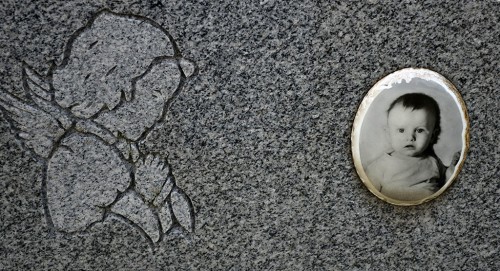 I had a hard time editing the photo of Ricky Dale Wiseman, who died in 1967. A bright-eyed one-year shouldn't be beneath a tombstone. I didn't feel floods of emotions like that until I had kids and grandsons. I guess you do acquire some wisdom with old age.
"Lucky"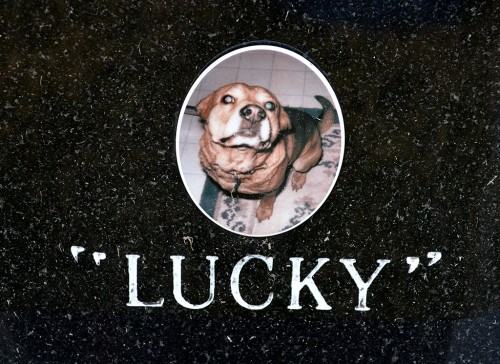 One large black stone had the photo of a young couple on it. (OK, RELATIVELY young: he was born two years after me.) Steve L. Chandler died in 2004; his wife, Julia M. is still living. At the bottom of the stone is a photo of "Lucky." I have to wonder if Lucky is buried there.
Sometimes you should leave well enough alone and not do any more research. FindAGrave, carried Steve's obit: "Steve L. Chandler, 55, of Marble Hill died Dec. 3, 2004, at his home, following an illness. He was born July 12, 1949 in Cape Girardeau, son of Lynn and Wanda (Ricketts) Chandler. He and Julia Johnson were married April 18, 1992 in Marble Hill. Mr. Chandler was a member of Lutesville Presbyterian Church and Marble Hill VFW Post 5900.
He was co-owner and pharmacy technician of the 103-year-old Chandler Drug Store in Marble Hill. He was a U.S. Army veteran of the Vietnam War and was awarded a Purple Heart. Survivors include his wife. He was preceded in death by a son, Austin Lynn."
Still curious about Lucky, I expanded my search. RootsWeb's WorldConnect project had the same obit, but it also had a link about Austin Lynn. I wish I hadn't clicked it.
"The Southeast Missourian – July 30 1992 – Marble Hill–Austin Lynn Chandler, 5, was found dead Tuesday, July 28, 1992, in Crooked Creek near Marble Hill."
I felt like I had been punched in the stomach. All thoughts of having a happy post about Lucky evaporated.
Photo gallery of grave photos
I don't think I can handle any more obits for children tonight. Here's a collection of some of the photos that appear on tombstones in the Bollinger County Memorial Park Cemetery. Click on any photo to make it larger, then use your arrow keys to move through the gallery. I'll post similar photos from other cemeteries from time to time.