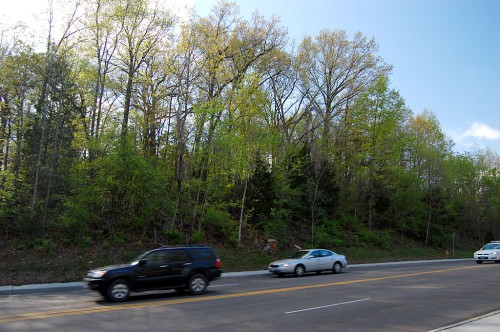 I'm sure these motorists, like the thousands of others who pass by this point in a week, don't realize that they're driving by the reason Mount Auburn Road has that name.
Mount Auburn Cemetery
While looking for something else (how many times have I written THAT phrase?), I saw a April 13, 1961 story in The Missourian about the start of a "Scenic Route West of Cape" that would link Hopper and Gordonville Roads.
The story went on to say that the road was "getting its name from the Mount Auburn Cemetery, atop one of the elevations, and which was the old Joyce Family Cemetery."
I don't recall a cemetery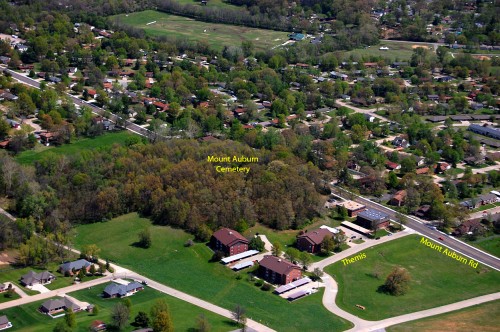 I asked Mother if SHE ever remembered seeing a cemetery along Mount Auburn Road. She drew a blank, too.
On one of our many trips down the road, I played a hunch and turned west toward the apartment buildings up on a hill at what I found out was an extension of Themis Street. At the end of Themis, I saw a short piece of road going off to the right, occupied by a dumpster.
Brush, trees and May Apples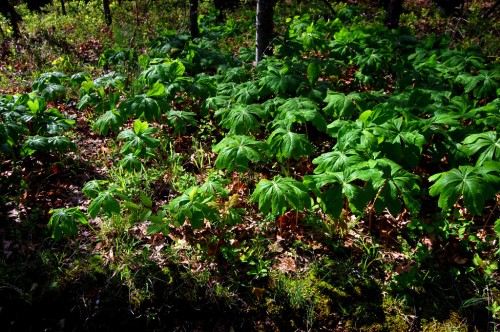 Beyond the paved part was what looked like a trail leading up the hillside. THAT looked promising. I followed the trail up the hill for a hundred yards or so, past a nice stand of May Apples,  until it broke out into a clearing.
Cemetery surrounded by fence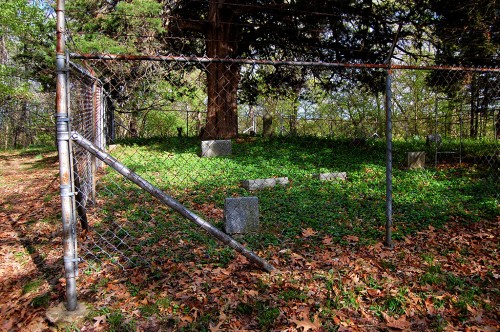 There, at the crest of the hill was a tiny cemetery with a few stones and some obligatory pine trees, all surrounded by a chain link fence topped with barbed wire and secured with a rusty padlock.
There was a gap under the fence in a couple of places. There was a time when I would have had the inclination – and ability – to wriggle under the fence, but my ambition and my flexibility have gone missing.
Most of the stones carried the name "Joyce"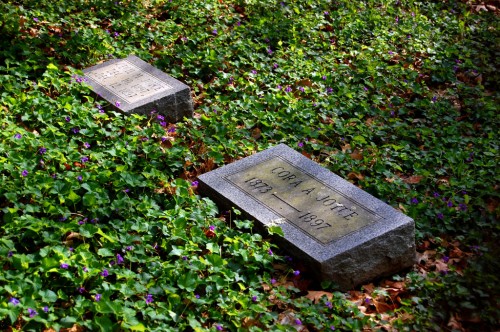 The light was spotty and the fence interfered with getting good shots of the stones, but I did notice that most of them had the name "Joyce" on them.
The Missourian story said the property owners donated a 70-foot right of way to build the road. They included Arthur Job, Ed Haman, Schonhoff Brothers, John Hunze, Percy Farrar and Maple Joyce.  "A 28-foot roadbed is being constructed, this to be graveled, and in the future the road likely will be given a permanent hard structure."
Joyce Family died in clusters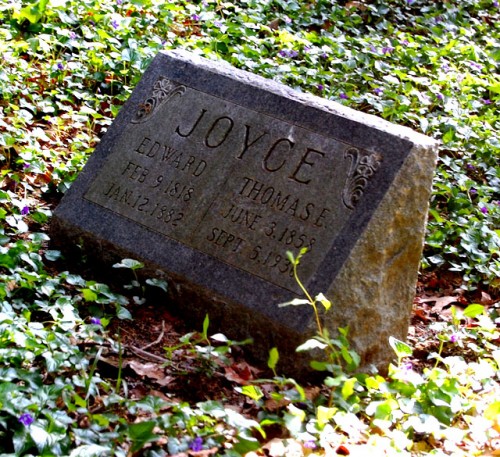 A Mar. 22, 1927, story said that a double funeral service would be held for a woman and her granddaughter.  Mrs. Clara Giboney died Monday and her granddaughter, Miss Marie Joyce, passed away early today. The bodies will be interred in adjoining family cemeteries on the Hopper Road.
Mrs. Giboney, a widow of the late Alexander Giboney, succumbed to pneumonia, which she contracted after several months of illness with a heart malady.
Miss Joyce was the daughter of Mr. and Mrs. Lee Joyce…Her mother was a daughter of Mrs. Giboney. The young woman, who was 18 years of age, was stricken with a nervous malady a week ago, and her condition rapidly became serious. She had been employed for the past several months as a stenographer at the Dempsey Grocery Co., and prior to that time attended Central High School and the business college here. She was popular in a wide circle of friends and was generally regarded as highly efficient in her work.
She is survived by her parents, five brothers, Leland, Melvin, Thomas, Ivan and James, and one step-brother, Prof. Maple Joyce, a teacher at Murphysboro, Ill.

Engrams buried there, too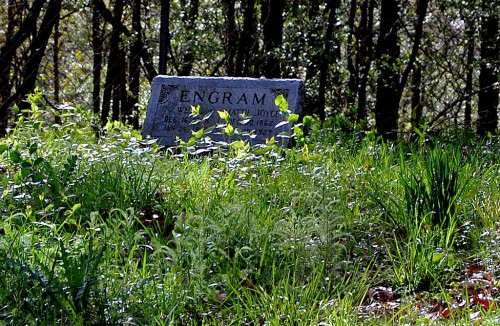 One stone had the name Engram on it. It looks like Wm. Engram was married to Mattie Joyce, who died in 1929.
A June 8, 1954, obituary said that Miss Anna T. Joyce, 87, was the third sister to die within six months.
Miss Joyce, known to her friends as "Tony," was born at Ancell on Aug. 18, 1866. Two sisters preceded her in death, Miss Beatrice Joyce on Jan. 22, 1954, and Miss Georgie Joyce on Feb. 17, 1954. She is survived by a brother, Lee Joyce of Jackson.
The pallbearers, all nephews, will be Marshall Engram, Marvin Engram, Maple Joyce, Leland Joyce and James Joyce.
I didn't run across a story that told when the Joyce Family Cemetery was named the Mount Auburn Cemetery.