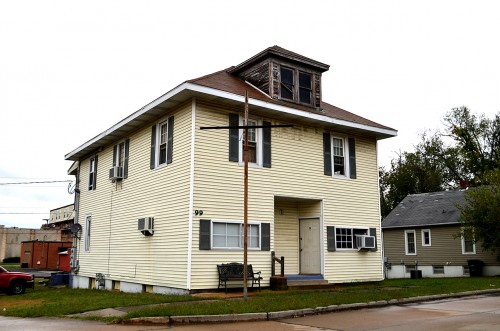 Mother said she remembered buying meat at this building at 99 South Park Avenue when it was a grocery store. It's at the corner of Park Avenue and Merriwether Street.
The only quick story I could find was in the Society News of the March 26, 1942, Missourian:
"The marriage of Mrs. Hattie Huckstep Abbot and J.C. McLain of this city was performed by Rev. C.E. Fleshman at the Nazarene Church at 3 o'clock Wednesday afternoon.
"Until resigning Saturday, Mrs. McLain was employed at the Roth Tobacco Co. Mr. McLain, who operated a grocery at 99 South Park Avenue 12 to 14 years, until a year ago, has bought a residence from his mother, Mrs. Katherine McLain, at 103 South Park Avenue, where Mr. and Mrs. McLain will live and will open a grocery store."
{That has to be one of the world's longest run-on sentences.]
"His mother, who lived at 103 South Park Avenue, will move to 101 South Park Avenue."