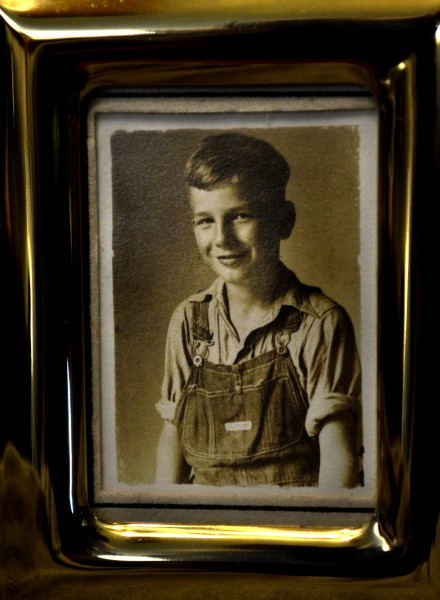 I mentioned my Last Generation project on March 26. I've been working like crazy to get a video presentation done so I can talk with a SEMO historical preservation about shooting regional history (or something like that. I usually don't know what I'm going to talk about until I get in front of a group).
I finally got it whipped into passable shape this afternoon. Some of the transitions between clips are a little rougher than what I like, but I think the stories Dorothy, Edgar and Myrtle are more important than the technical stuff.
Shooting video is a whole different ballgame than shooting stills, even if you have been shooting picture stories for years. For one thing, the audio is as important, if not MORE important than the images. The best segment of the three was with Edgar Dryer (shown above when he was 8 or 10). He was 78 last fall when I photographed him. I couldn't have asked for better natural lighting. He was also the first person I used a wireless mike on. That made a world of difference.
The biggest challenge was getting all the audio levels to match when you are shooting different subjects in different places. Watching tutorials and reading the manuals to figure out how to do it was mega-nap-inducing. I got the levels within acceptable levels, but I'm sure someone who knows what he or she is doing could have saved me hours of work.
The Last Generation video
I hope you enjoy the video. I have at least another dozen Perry County folks to work on before the Perry County Lutheran Historical Society's Third Biennial Immigration History Conference in Altenburg October 23-25.
By the way, if you want to enlarge the video, hover your mouse over the bottom right-hand side of the vido screen. You'll see a square box that says Full Screen. That will make the video fill your monitor screen. Press ESC to get it back to normal size.