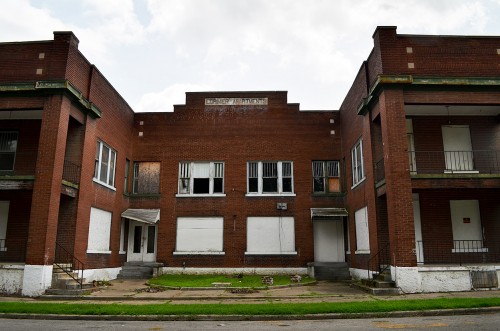 I've always been curious about the Lorimier Apartments, at the corner of Lorimier and William, across from Indian Park.
The earliest mention I of them I could find in The Missourian archives was a June 7, 1919, story that W.L. (Doby) Timbs was suing the city of Cape Girardeau for constructing what he said was a sewer line that was too small that caused flooding in the vicinity of the Lorimier apartments.
Sold to John Sackman for $15,000
March 25, 1921 – "One of the most important realty transactions of the new year in this city was reported today in the announcement of the sale of the Lorimier Apartments, corner of Lorimier and William Streets, to John Sackman. The consideration "$15,000 and other consideration," the announcement says.
Leon Heisserer of Benton was the owner of the Lorimier apartments and the bungalow at the south…. The property has a frontage of 117 feet on Lorimier and 60 feet on William Street. The deal was made by the Ben Vinyard Realty company."
Sold in November for $24,000
November 21, 1921 – "Two important real estate deals were consummated in Cape Girardeau on Saturday.
"The Lorimier Apartments … was sold by John T. Sackman to H.F. Dossett, a farmer living on the Rock Levee road, six miles from the city. The consideration was $24,000.
"Two hundred acres of land on the Rock Levee road, near Ramsey Creek, six miles from Cape Girardeau, were sold by H.F. Dossett to John Sackman for $28,000. The Cape Girardeau Real Estate Company, W.D. Deevers, agent, handled both transactions.
"Mr. Dossett stated today that he would rent the apartments as has been the custom. Mr. Sackman will build a fine house and barn on the farm, he intimated today. The farm will be rented out, he said."
A more interesting Page One headline in that day's paper read, "Malden Maids Ride With Cape Boys and School Fires Them." Some high school girls got into big trouble when the city slickers "blew into" town.
Mrs. French and son travel
April 17, 1923 – Mrs. R.R. French and little son, Paul, of Lorimier Apartments are visiting relatives in St. Louis. They are expected to return here next Sunday. (In other big news of the day, "Mrs. W.H. Jacobs and Mrs. C.W. Kinsey motored to Jackson this morning to spend the day with Mrs. Jacobs' parents.")
October 3, 1923 – Mrs. R.R. French and little son, Paul, of Lorimier Apartments, left on the noon train today for Senath to visit relatives for about two weeks.
Bartels' home damaged by fire
December 12, 1935 – "A gasket, blowing out on the intake of the city $10,500 two-year-old fire truck, handicapped firemen in fighting a blaze which badly damaged the dwelling of Mr. and Mrs. W.G. Bartels, 227 North Middle street." The Bartels moved into Lorimier Apartments until their home could be repaired.
"Mr. Bartels, owner of Bartels Merc. Co., 735 Broadway, was at his store and Mrs. Bartels was attending a matinee at the Fox Broadway Theater. Miss Alma Enderle, who is employed at the home, was the only person there and was not aware of the fire until warned by neighbors."