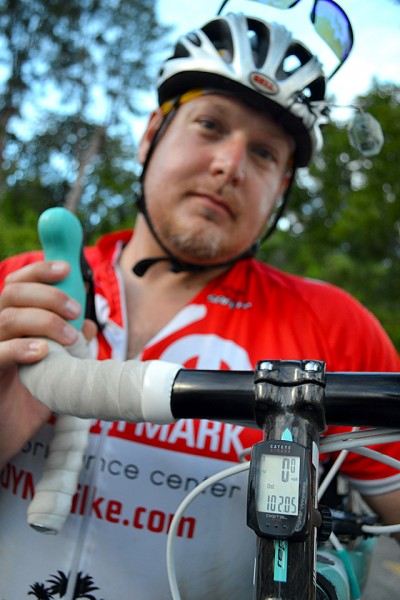 Son Matt called Friday to ask if I wanted to do a Birthday Century with him on Saturday.
A "century" is a 100-mile bike ride in a day's time. I've done half a dozen of them, but not in recent history, so I had the good sense to pass. He said his direction was going to be based on which way the wind was blowing. If it was coming from the east, he'd head to Ft. Myers, on Florida's west coast. If from the south, his destination would be Daytona Beach to the north. As it turned out, Saturday's winds were light and from the east-northeast, so he headed to Miami. To make the ride more interesting, he was going to do the 100 miles, then have someone pick him up. That way he wouldn't see the same road twice.
When I did a status check with Sarah, she said she had come down with a cold and would take me up on my offer to pick him up.
He ended up on Key Biscayne, off Miami Beach, with 102.05 miles under his saddle. When I started to take his picture, he said, "Make sure the cyclometer is sharp. It's OK if I'm fuzzy."
Wow, that's gray in his beard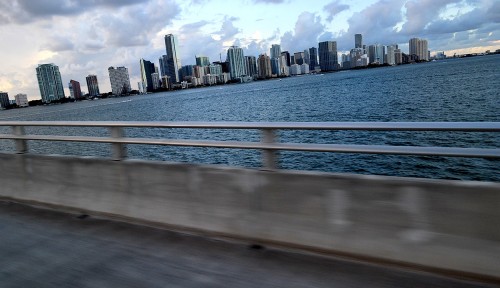 I hadn't noticed that his beard had picked up some gray recently. Let's do the math: 2013 – 1975 = 38. That's getting up there. I guess it's about time for the gray.
On the way back, I asked him to shoot the Miami skyline when we went over the MacArthur Causeway. He remembers it well, because that's the bridge he had to ride over four times when he, Son Adam and Wife Lila did the family triathlon in 2010. (Some of the pictures are pretty, so it's worth following the link.)
Matt said this was the first century he's done where he felt like he still had another 20 or so miles left in his legs. I offered to let him show me, but he opted to hop in the car.
Frank Stark ride
Frank Stark was an airline pilot who was forced to retire after quadruple bypass surgery and two heart attacks. He took up cycling as rehab and worked up to the point that he would "ride his age" every year on his birthday. One of his friends said he had a nurse riding with him in the early stages of his recovery.
Before long, the Boca Raton Bike Club started looking forward to the birthday rides. When Frank died of heart failure on a bike ride just a month short of his 71st birthday, the members established the Frank Stark Celebration Ride. I shot this one in 2009. Unfortunately, Frank's birthday was in July, not the best month to be doing distance riding in Florida.