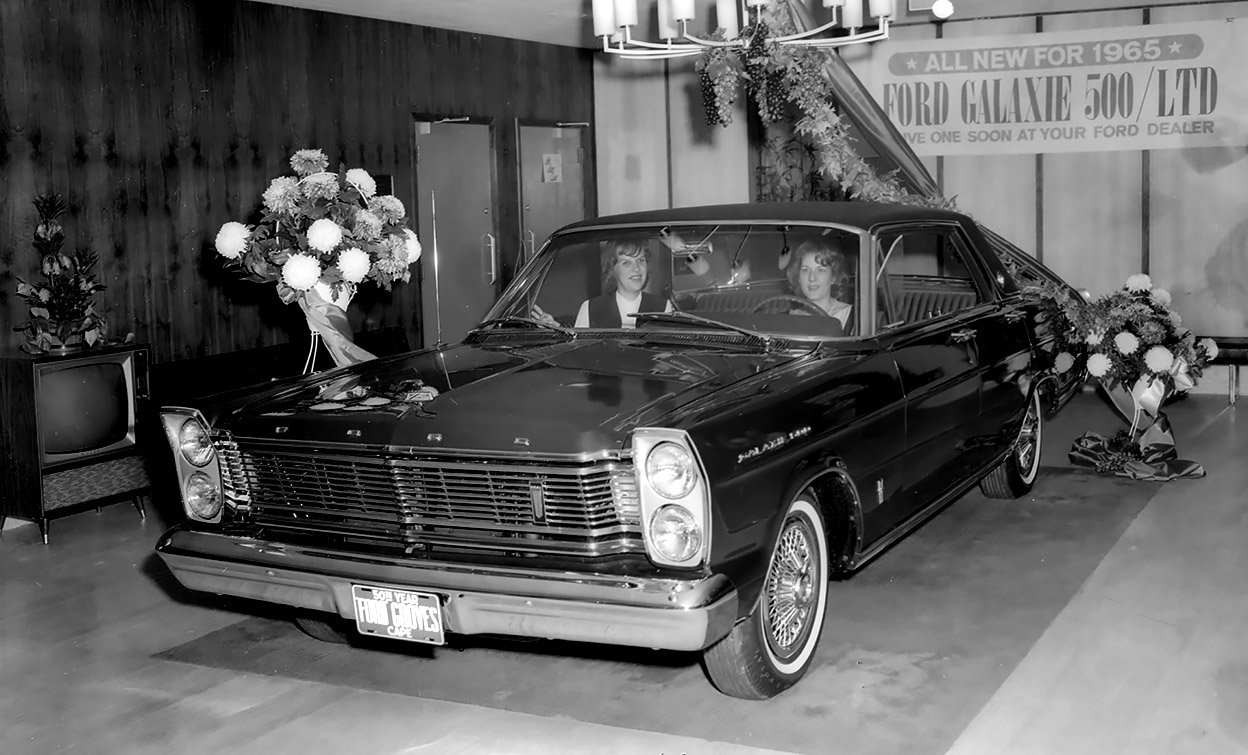 I ran across a bunch of 4×5 negatives, some of which were in really bad shape, showing the 1965 Ford Galaxie 500/LTD and noting that Ford Groves had been around for half a century.
I don't have any idea who the women models are. Check out the old TV on the left.
Who are these women?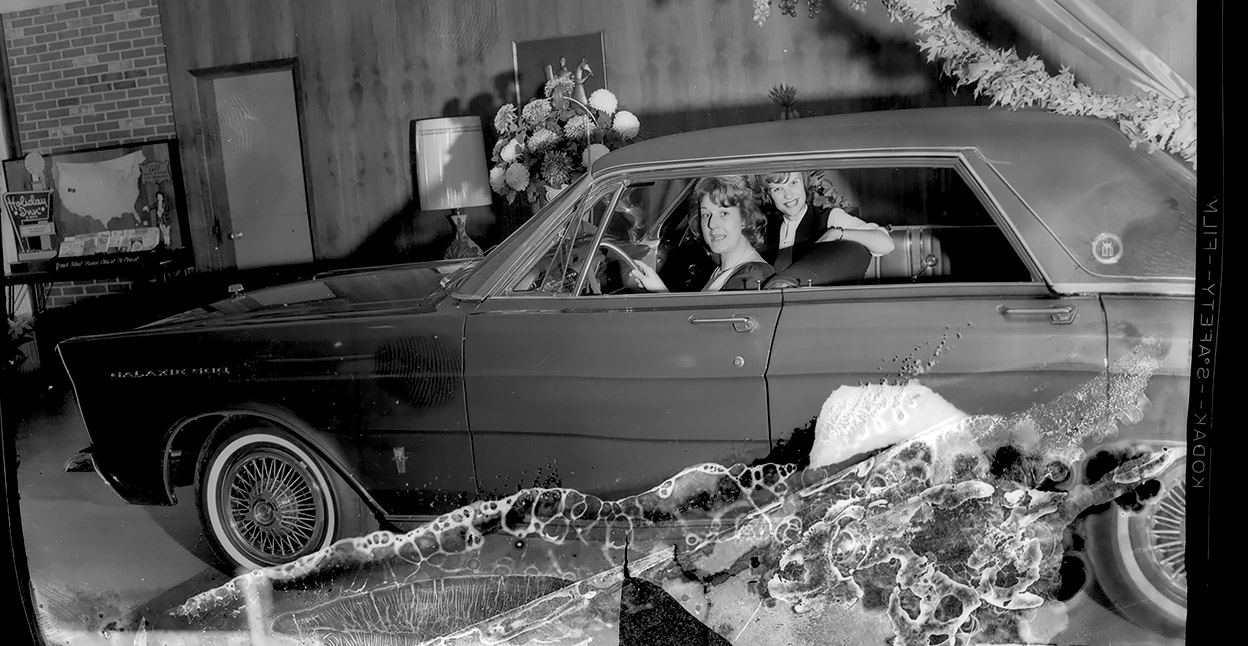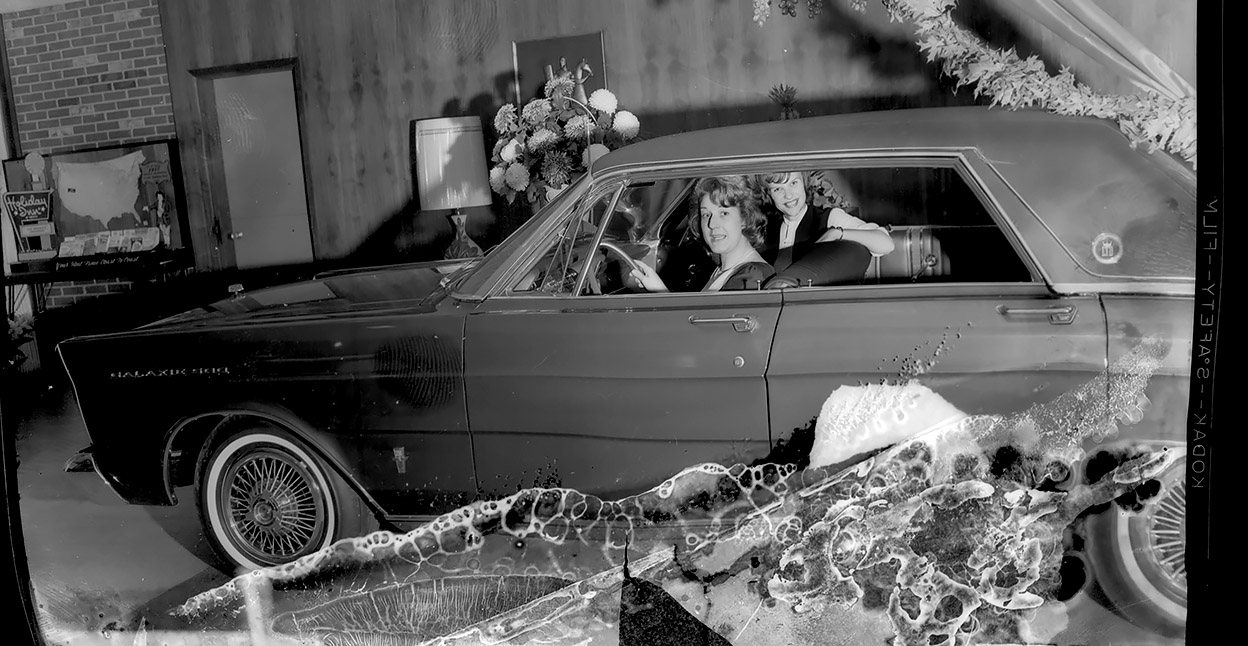 Here's a better look at the young women. I wonder if they were hired talent or friends, relatives or employees of Ford Groves.
It looks like the film might have slipped out of the groove when it was being developed, resulting in all the funky stuff looking like it's trying to eat the Ford.
If I had turned it in as a class project when I was a Fine Arts student at Ohio University, I would have come up with a fancy, high-faluting caption brimming with Deep Meanings.
This guy must be important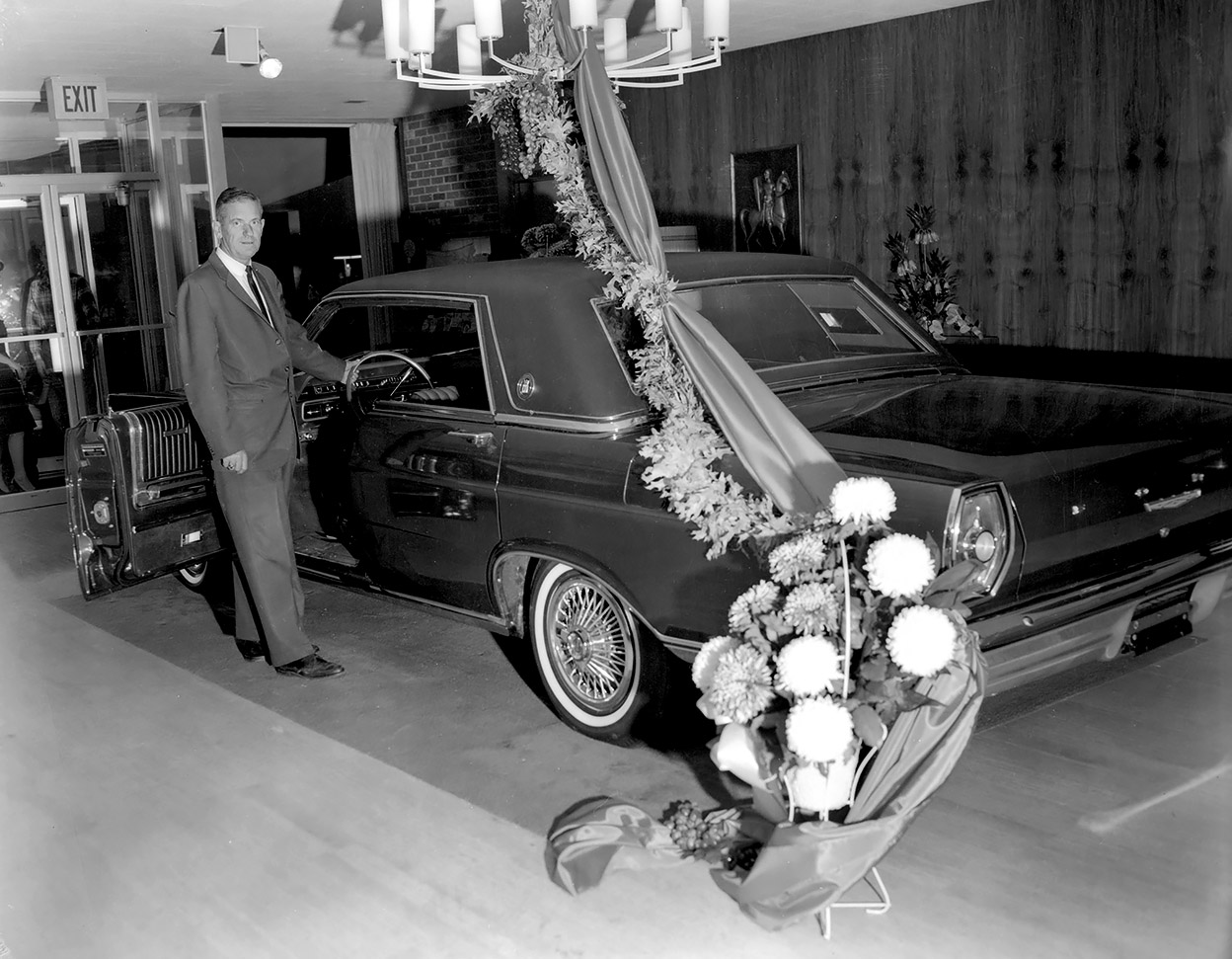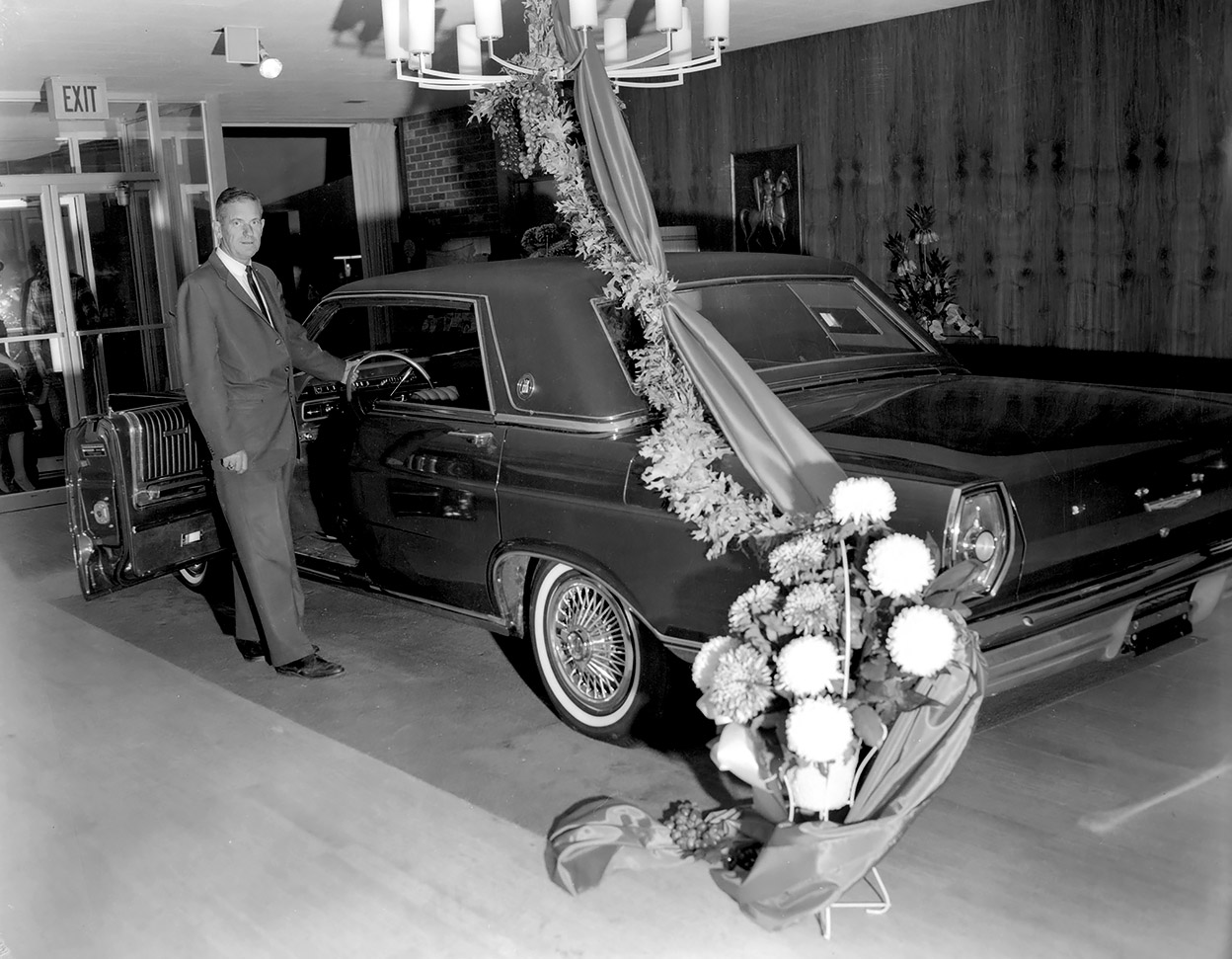 He looks important: he's got on a suit, wingtip shoes and a steely countenance.
I'm sure one of you will be able to identify him.
Obligatory mug shot of Galaxie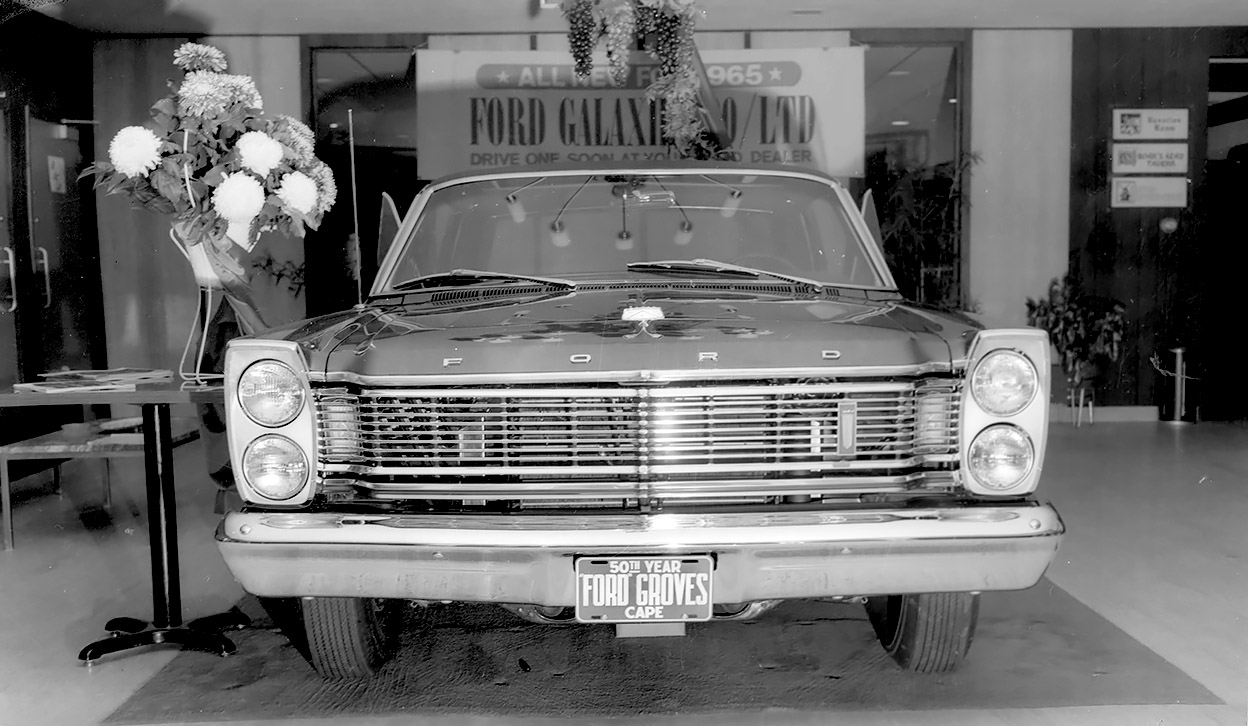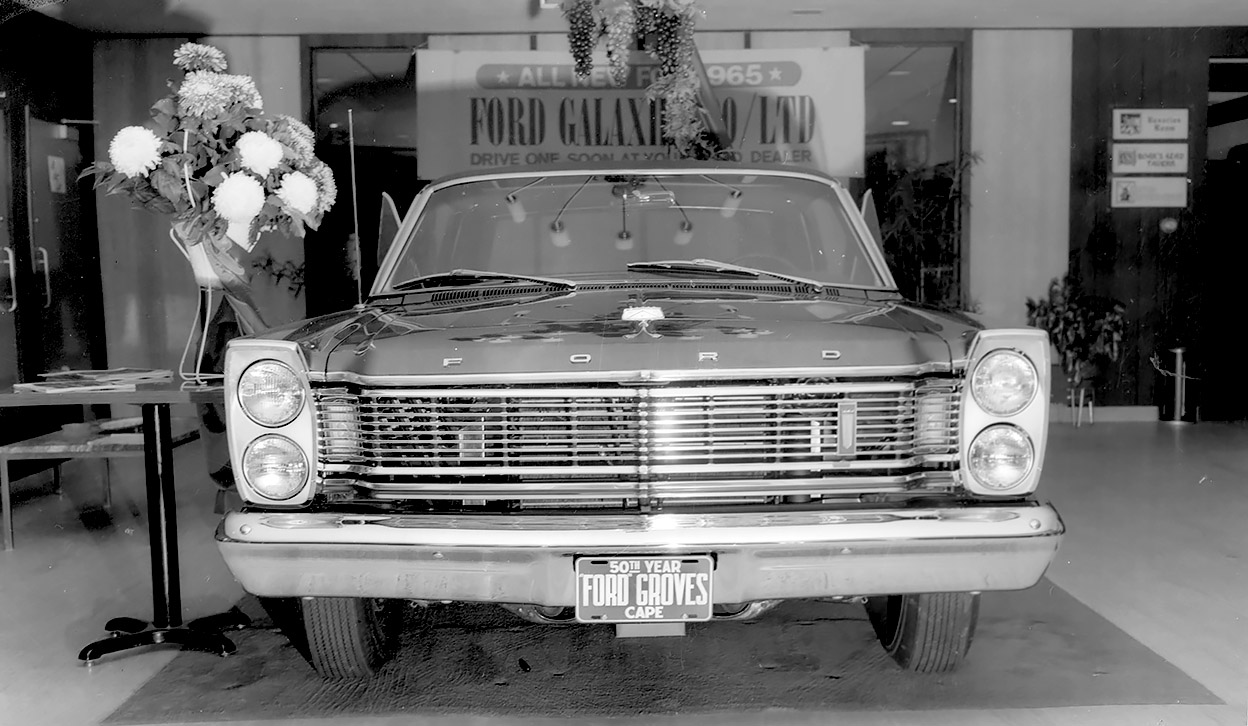 Spell check keeps trying to change the word to Galaxy, but the name on the side of the car and the sign says Galaxie. Ford should know, right?
Wikipedia provided this information about the 1965 model:
"The 1965 Galaxie was an all-new design, featuring vertically stacked dual headlights. The cars were taller and bulkier than the previous year's. The new top-of-the-line designation was the Galaxie 500 LTD and Galaxie 500 XL. The LTD and the XL trim package were accessory upgrades from the base Galaxie model. Engine choices were the same as 1964, except for an all-new 240 cu in (3.9 L) six-cylinder engine replacing the 1950s-era 223 "Mileage-Maker" six and the 352 was now equipped with dual exhausts and a four-barrel carburetor.
"Suspension on the 1965 models was redesigned. Replacing the former leaf-spring rear suspension was a new three-link system, with coil springs. Interiors featured a new instrument panel, as well as two-way key vehicle access: the introduction of two keys was for valet parking, where the rounded head key would only open the trunk or locked glove compartment, while the squared head key would only unlock the doors and the ignition."
Car salesmen pitching the Ford Maverick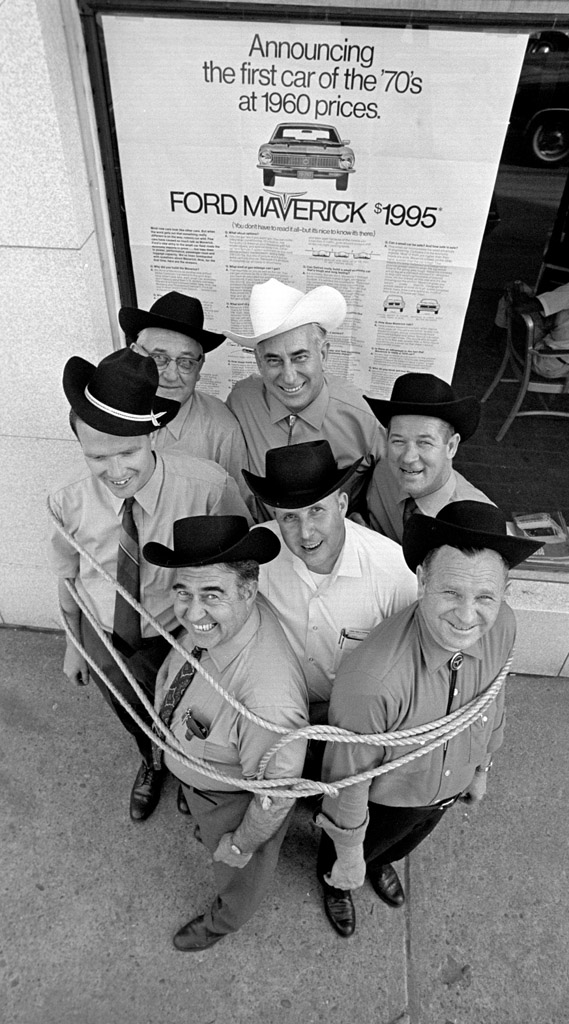 This ad shot is so cheesy I finally grew to appreciate it. It was for The Athens Messenger in 1969. You can see more Maverick ad photos here.
I tried everything I could do to get out of shooting advertising photos.
Part of it was because some advertisers thought that since they hired you to to take their ad picture, they could also try to dictate what you could shoot in a news situation.