I guess this just goes to show that it's not a good idea to store prints in an attic where the summer temperatures approach Fahrenheit 451 (the ignition point of paper) and the winter falls to just north of Absolute Zero at which point all molecular activity stops (or something like that).
Marks on the back make it look like some of the prints were for The Sagamore. Others might have been for The Missourian. Still others might have been "seconds" or "rejects," pictures I didn't know were too bad to use until I actually saw the print.
Ektamatic Process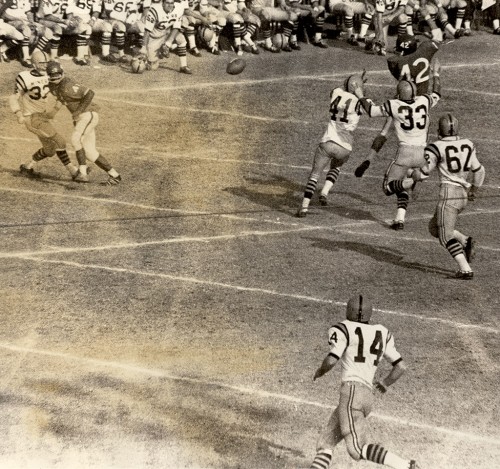 Another reason the photos have deteriorated so much is that I experimented with using an Kodak Ektamatic processor to keep from having to slosh photo paper in developer, stop bath, fixer, and then wash and dry it. In theory, you would feed your print into a machine containing a series of rollers that would run it through an activator solution, then a stabilizing chemical. As they exited the final roller set, the print was "almost" dry.
In fact, the processor never produced the quality of a chemical print, and the paper never fully dried. Even Kodak admitted the process would produce prints "where quality images are necessary, but long-term keeping is not." I have a couple of boxes of Ektamatic prints and contact sheets that have turned into a paper brick.
After finding that I couldn't use the processor as intended, I used the rollers to squeeze out most of the water from the prints so they'd dry faster on a conventional dryer.
Photo gallery
I have no idea if these are all SEMO games or if some high school action is mixed in. Click on any image to make it larger, then use the arrow keys to move through the gallery.