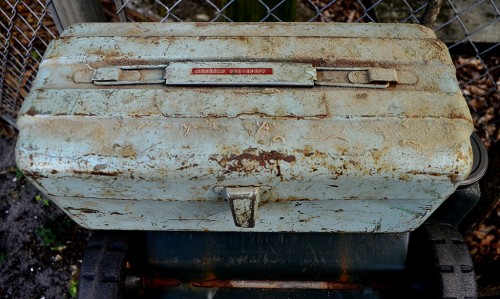 I was on hold with Comcast when I heard a shriek in the other room. Not a happy, "Look, Publisher's Clearing House just pulled up the driveway!" shriek. It was a "You'd better get in here right now!" shriek.
Wife Lila was supporting a shelf end with one hand and attempting to lighten the load on the shelf with the other. Paper products – paper towels and toilet paper – were flying everywhere. It seems that one of the plastic supports that held up the shelf since the middle 80s got tired and decided to take a nap while she was putting supplies away.
Of course, THAT would be the time the Comcast rep I was waiting for would come on the line.
After the shelf was repaired and Comcast dealt with (a pleasant experience, surprisingly), it was time to reload the errant shelf. Of course, that involved looking up at the shelf above it. "What's all that stuff? Can we get rid of it?"
One of the items was an old, old blue tackle box with, as you can see, a whole forest of dust bunnies living on top of it. [Editor's Note: I didn't know what a group of rabbits was called. For future reference they are, "a colony, warren, nest, herd (domestic only), litter (young); specific to hares…A down, husk. Since I have learned a new factoid, that means I qualify for a nap.]
I think it was my grandfather's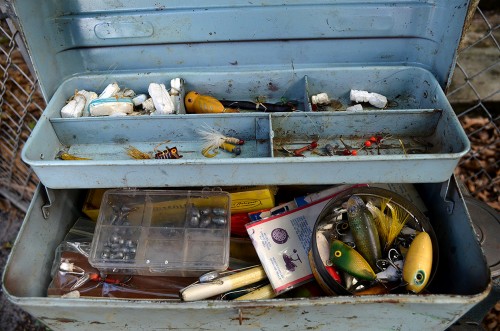 When I was a kid, I lived to fish. Every chance I could get, I'd head down to 3-Mile Creek with this tackle box hooked though one handlebar and my fishing rod and reel cradled across it. My name is written in red plastic label tape, but I think Dad and I both used it at various times. It has to be at least 75 years old, and I'm pretty sure it originally belonged to Mother's Dad – my grandfather – Roy E. Welch.
I recognize some of the lures as mine, but I also see some of Dad's stuff in there.
I really liked fly fishing. There was something about dropping a fly exactly where you wanted it to go that satisfied me. Plus, there was never any danger of me catching anything big, so a fly rod made even small fish fun.
Truth be told, my interest in fishing ended when the object of my quest got within hand-holding distance. I'd have been perfectly happy if the slimy thing made a spectacular jump and threw the hook back at me at the last second. I just went back to look at an earlier story I did about fishing. Nope, my views haven't changed much.
You might notice that all my lures and flies are small. That's because even they were larger than most of the fish I'd catch. Still, I liked artificial bait rather than live bait: you didn't have to dig it, catch it, dissect it or listen to rubber worms scream when you threaded them on the hook. Besides, I thought it was an act of positive Darwinism to weed out the fish dumb enough to fall for fake food.
Panatomic-X film can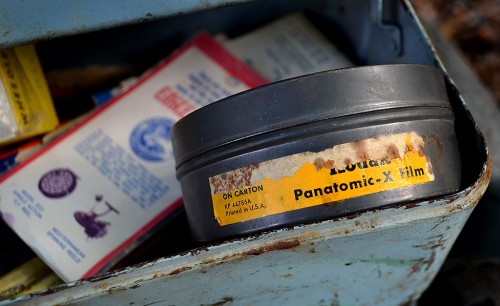 I bought film in 100-foot rolls and cut it into 30-exposure rolls in my basement darkroom. Those empty film cans like this one that contained Panatomic-X were put to a multitude of uses around the house. This one found a home in my tackle box.
When I first moved to Florida, I'd sneak out west of town on a slow day and fish some of the pounds and lakes in the wilderness near the city. I could turn up the scanner and the company two-way radio and pretend to be working while casting, mostly fruitlessly. The few times I caught anything, I'd toss it back. The last thing I wanted to happen was have to roll on spot news and forget I had a fish under the seat.
Sons Matt and Adam haven't shown any real interest in fishing. I'll offer my tackle box to them, and if they don't want it, I'll carry it back to Cape to let Brothers Mark and David divvy it up. Mark likes collecting old objects that he turns into art, and David is an avid fishermen. Maybe David can catch stuff with lures that are half a century or more old. I certainly didn't use up all the luck in them.
You can click on the photos to make them larger if you want to see what I fished with.