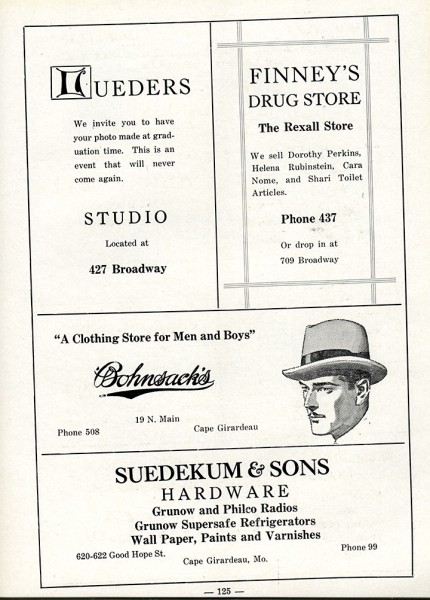 I've worn baseball caps, cowboy hats, firefighter helmets, bike helmets and riot helmets, but I never had a traditional hat like this dandy in the 1934 Girardot is sporting.
My first thought in seeing the ad for Bohnsack's – "A Clothing Store for Men and Boys" – was that the man with the hat and mustache was Clark Gable. It might have been Gable, but he didn't REALLY become famous until Gone with the Wind, which hit the screen in 1939, long after the yearbook was published.
Bohnsack's had become Sherman Ladies Fashions by 1968, and that address was listed as William Brothers' Curtis Mathis TV, Linens and Gifts in the 1979 City Directory.
Other businesses on the page
Lueders Studio

survived well into the 1990s, based on family photos we had taken there.

Suedekum & Sons

has returned to its original roots as Meyer Supply company, but it's still in the same place and it's been serving the community for more than a century.
Finney's Drug Store was still listed in the 1979 City Directory, but Google's Street View shows it as an empty storefront today.