The negative sleeve read "Eclipse," but I couldn't figure out what the picture was showing. Then it dawned on me (no pun intended): you don't point your camera directly at the sun unless you have heavy-duty filters in place. The way we were told to shoot the eclipse was to cut a pinhole in a piece of cardboard and use that to project the sun's image onto another surface. (Click on it to make it larger.)
(I always took warnings seriously. When we got our first-ever Associated Press Laserphoto machine, I put up a sign on the inside that said, "Do Not Look at the Laser Beam with Your Remaining Eye.)
That tiny crescent of light toward the bottom of the picture was as good as it got. We didn't have a total eclipse in Cape, so the whole sun wasn't blocked out.
In trying to track down a date for the eclipse, I found a wire story headlined "Lucky Old Sun Stars in Show" on the front page of the Missourian on July 20, 1963.
The next day's paper had a close-up of a crescent similar to mine. I was doing some freelancing for them by then, but I don't think it was mine.
Tucker execution dominated news
The news that week was dominated by the pending execution of  Sammy Aire Tucker for the murder of  Cape Girardeau policeman Donald H. Crittendon on March 10, 1961. Auxiliary officer Herbert L. Goss also died in the shootout. A memorial for them is on the Common Pleas Courthouse grounds.
The Missourian headline on July 26 was In Puff of Poison Gas: Tucker Meets Death Quietly.
Lunar eclipse in Florida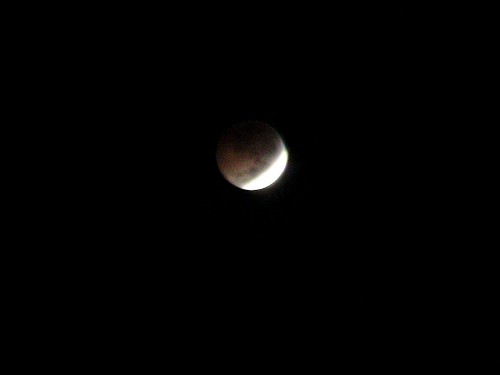 That Cape solar eclipse sort of dampened my enthusiasm for eclipses, but I did shoot a total lunar eclipse in Florida in 2010. I have to admit that Terry Hopkins had the best idea:
Go out in the back yard and stare at the full moon.
Close your eyes.
Open your eyes.
Go to bed
Complain about how hard it is to get up